Ed Sheeran And Macklemore Meet The Muppets During Sesame Street Appearance - Video
22 November 2013, 11:02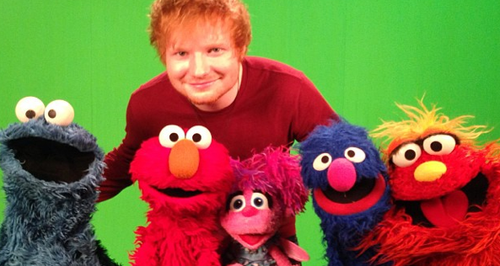 The pair are seen performing their songs with the show's cast in a new preview video clip.
Ed Sheeran and Macklemore's upcoming appearances on Sesame Street have been teased with a brand new behind-the-scenes video.
'Lego House' singer Ed joins the Muppets characters for an episode set to air in 2014 next year and is seen performing an original song with the cast as part of his appearance.
'Same Love' rapper Macklemore has also filmed an upcoming episode of the PBS show where he and the Sesame Street cast perform a modified version of his hit 'Thrift Shop'.
"I thought I'd stop by, I got a call from Elmo," Ed explains during an on-set interview, while Macklemore adds: " I think that every rapper's dream is to make it onto Sesame Street."
Ed Sheeran's appearance on Sesame Street is expected to air around September 2014.