Ed Sheeran At iTunes Festival 2014: The Highlights
30 September 2014, 11:38 | Updated: 30 September 2014, 13:13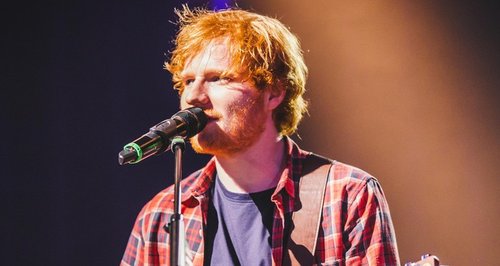 Relive the incredible moments from Ed's headline set at this year's iTunes Festival.
Ed Sheeran was the penultimate performer at iTunes Festival 2014 this year, his FIRST headline London show in two years, and the crowds couldn't have loved the UK superstar's set any more, full of crowd-pleasers, emotional moments... and trademark Sheeran charm!
The 'Don't' singer gave fans exactly what they wanted, slow moments for his quieter numbers and big rousing performances of his most popular singles like 'Sing' and 'You Need Me, I Don't Need You'.

See below for OUR highlights of Ed Sheeran's phenomenal iTunes Festival 2014 performance:
The day started off well… LOVE how British Ed is when it comes to preparing for a big show!
having a proper fry up that doesn't involved a burger shaped sausage or turkey bacon. god bless home

— Ed Sheeran (@edsheeran) September 29, 2014
And then the anticipation went into overdrive as a countdown started and the red-haired superstar emerged to kick off his set with 'I'm A Mess'
Ed made sure to get the crowd going EARLY when he cracked out 'Lego House', and gave a note-perfect performance!
And it clearly went down well with Ed's fans watching AROUND the world… as well as those lucky #Sheerios in the Camden Roundhouse!
Loved ur performance on iTunes, might of cried a little. @edsheeran

— samaria (@SOSWhiteside) September 30, 2014
Im watching ed sheeran performance on iTunes festival. OMG JSBXYNAIDDN HOLD ME. Freaking awesomee

— (@jclynclm_ep) September 30, 2014
#edsheeran was incredible last night!! #itunesfestival2014 @ Itunes Festival @ The Roundhouse Camden http://t.co/Q6SLUyNuRz

— Kathryn Lo (@lkathryn237) September 30, 2014
Watching Ed Sheeran bring down the house at the iTunes festival. Best way spend my birthday eve!

— Ian L (@ianlons) September 30, 2014
Of course it wouldn't be an Ed Sheeran concert if he didn't mix things up, dropping in verses of everything from 'Backstreets Back' to 'No Diggity' throughout his set…
The #Sheerios REALLY got into the groove when Ed cracked out his latest single 'Don't'… and brought the passion to iTunes Festival!
When Ed played 'Give Me Love' the atmosphere in the Roundhouse was sky high… there was nothing like it!
And there was only ONE song that could close his set… getting EVERYONE to scream their lungs out to 'Sing'
Plus Ed couldn't resist a cheeky Instagram crowd shot to celebrate the end of his FIRST London headline gig in two years!
Check out Ed Sheeran's full iTunes Festival 2014 setlist below:
'I'm A Mess'
'Lego House'
'Don't'
'Drunk'
'Take It Back'
'One'
'Bloodstream'
'Tenerife Sea'
'Runaway'
'Afire Love'
'Guiding Light' With Foy Vance
'Thinking Out Loud'
'Give Me Love'
'I See Fire'
'You Need Me, I Don't Need You'
'The A Team'
'Sing'
You May Also Like…