Jeremy Renner - As Hawkeye From The Avengers - Covers Ed Sheeran's 'Thinking Out Loud'
29 April 2015, 08:57 | Updated: 29 April 2015, 11:13
Hawkeye Sings About His Super Powers (Ed Sheeran "Thinking Out Loud" Parody)
04:02
Watch the Marvel superhero performing 'Thinking Out Loud', to share his frustration!
He ALWAYS seem to be the most overlooked member of The Avengers, but despite not having flashy powers like Thor or Iron Man... it turns out that Hawkeye is HILARIOUS!
Avengers: Age Of Ultron cast member Jeremy Renner performed an amazing cover of Ed Sheeran's 'Thinking Out Loud' this week on The Tonight Show, adapting the words to reveal that he DOES have special skills outside of just being darned good with a bow and arrow!
Hit play on the video above to see Hawkeye in action in his musical debut. We doubt The Hulk would have such a good pair of pipes on him!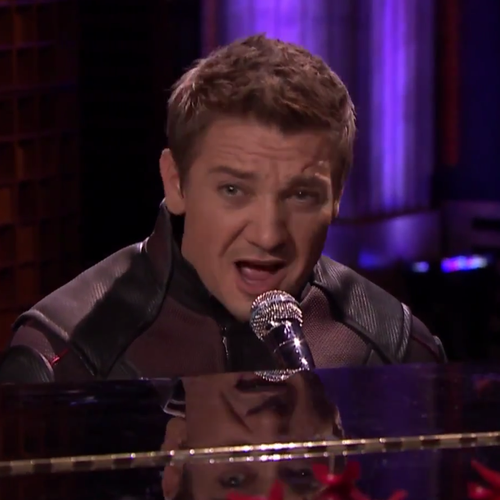 The Cast Of The Avengers Sing Carly Rae Jepsen's 'I Really Like You', And It's SUPER!
Avengers: Age Of Ultron hit cinemas last week and has scored HUGE commercial ticket sales since its debut, with a cast featuring Hollywood A-listers like Chris Hemsworth, Scarlett Johansson, Robert Downey Jr, Samuel L Jackson, Mark Ruffalo, Aaron Taylor-Johnson and Elizabeth Olsen.
You may also like...
WATCH: The Most Embarrassing Pop Star Stage Falls: