EXCLUSIVE: Ed Sheeran Thinks Fellow #CapitalSTB Star Enrique is A "Lover Not A Fighter"
20 June 2014, 15:08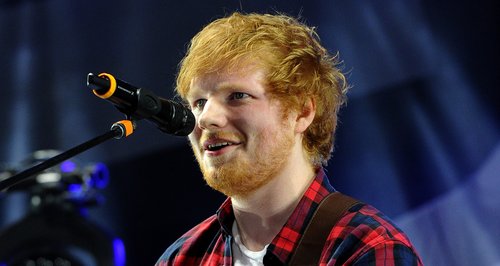 We gave Ed Sheeran a Summertime Ball (Buster) to find out what he would do when faced with a awkward backstage situation...
We revealed in our exclusive backstage gallery earlier today that Ed Sheeran's dressing room is right next to Enrique Iglesias', but what would happen if the boys had a little backstage bust up?
Capital Breakfast grabbed Ed to ask him the big question this week – what would he do if he was about to go on stage and found that cheeky Enrique-y (yeah, we just made that up) had smashed up his guitar as revenge for Ed's album going to number one in the states above his?
Ed Sheeran on fellow #CapitalSTB star Enrique Iglesias...
What would Ed do? He told us, "I'd plead with him to sing 'Hero'? Because everyone likes 'Hero'. 'Go on stage, sing 'Hero' and everything will be fine'. But he probably would have Pitbull with him and Pitbull doesn't look like the type of person you want to mess with."
But tell us Ed, why wouldn't you want to mess with Pitbull? He explained, "There's a video where Pitbull is on stage rapping, right, and the crowd is going nuts and this guy gets up on stage. He doesn't even LOOK and he knocks him out. The guy walks on stage as Pitbull's rapping, he knocks him out and carries on rapping. It's the most amazing video." Duly noted, never stage-invade Pitbull.
What about Enrique? Would Ed confront him over the smashed guitar? He told us, "Enrique seems like a lover not a fighter, he seems like someone that even if you got into an argument with him, he'd spend a long time being like 'Why?'". We reckon this could be the start of a beautiful friendship...
The Countdown To The #CapitalSTB Is ON!
You may also like...