Ed Sheeran's Engagement Ring Trick Means We May Never Know When He's Married
6 March 2018, 12:02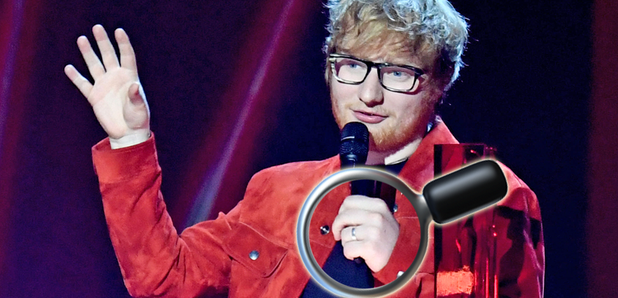 The 'Shape Of You' singer has finally revealed why he's decided to wear an engagement ring as well as his fance Cherry Seaborn!
When we first heard that Ed Sheeran was engaged we were super happy. Ed and his fiance Cherry Seaborn make one incredible couple and we couldn't love them any more tbh.
But one thing that caught our attention when the couple announced their engagement was that decision Ed made to wear an engagement ring as well as Cherry. Traditionally, it's only the bride-to-be who wears an engagement ring, but not when it comes to Mr Sheeran.
> Ed Sheeran's Song 'Supermarket Flowers' Isn't Actually About His Mum & Here's Why
Ed has been spotted at plenty of high profile events wearing his engagament ring, including the BRIT Awards and the Berlin Film Festival, but he'd never revealed why he'd chosen to wear one, until now...
Having previously claimed he doesn't see why men shouldn't wear engagament rings, Ed told Australian radio show Kyle and Jackie O, "It also means that nobody will know when we have got married."
After Kyle exclaimed, "Ahh, I see what you're trying to do! Throw everyone off the scent! I get it!", Ed simply responded, "Yeah" and now our minds are completely blown.
So basically Ed could literally get secretly married at any time and we'd have absolutely no idea because he's already wearing a ring! Genius.
Appearing on Lorraine recently, Ed revealed that his ring was actually made by Cherry! He explained, "I never saw why men didn't wear engagement rings. It's the same commitment either way. Cherry made it for me herself out of silver clay. I really like it."
Well we think it's a lovely ring and a lovely gesture Ed, so keep doing you!
> Download Our Fancy New App For All The Latest Ed & Cherry Wedding News!
Whilst you're here, check out the hilarious moment Taylor Swift accused Ed of peacocking recently...