WATCH: Ed Sheeran Sings 'Afire Love' With Elton John At Wembley Stadium
13 July 2015, 14:37
Ed Sheeran & Elton John 'Afire Love' Wembley Stadium 10.07.15 HD
05:07
The friends also sang 'Don't Go Breakin' My Heart' during one of Ed's three show.
Ed Sheeran had an incredible weekend as he performed three huge shows at Wembley Stadium, and the singer even had a very special guest join him for a powerful duet.
Yes, Ed made sure he had his good friend and mentor Elton John on hand to make a surprise appearance at his Wembley show, as the pair performed two tracks together to the delight of the thousands of fans in attendance.
Watch Elton John and Ed Sheeran sing 'Don't Go Breaking My Heart' below:
After bringing the legendary star out to play at a grand piano, they proceded to sing both Ed's song 'Afire Love' and a cover of Elton's 1976 anthem 'Don't Go Breakin' My Heart'.
Absolute honour sharing the stage with this man https://t.co/sXC2splKin

— Ed Sheeran (@edsheeran) July 11, 2015
Backstage at Wembley after Ed Sheeran's sensational first sellout performance. Such a thrill to join him on... http://t.co/EUzLb1pN0z

— Elton John (@eltonjohndotcom) July 13, 2015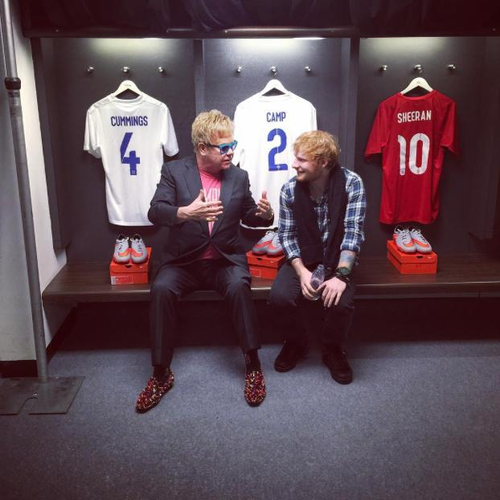 Ed Sheeran performed three consecutive nights at Wembley Stadium this past weekend, rounding off the promotion phase for his 'X'.
You may also like...
WATCH: Ed Sheeran Reveals He's Officially Single