Justin Bieber Sings During Scooter Braun's Wedding... And Ed Sheeran Also Performs!
8 July 2014, 12:19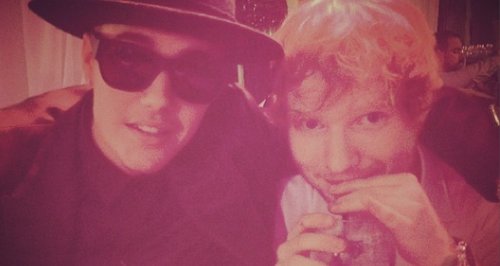 From Ed's 'No Diggity' cover to Tom Hanks' dance moves... this was an unforgettable celeb wedding!
Scooter Braun's wedding had EVERYTHING... from Tom Hanks dancing to Ed Sheeran singing Blackstreet!
But we're guessing the moment that meant the most to superstar manager Scooter was when Justin Bieber got up alongside a host of instrumentalists to serenade him and new wife Yael Cohen with The Beatles hit 'All You Need Is Love'.
The 'Boyfriend' star, Scooter's protege since an early age, began singing the iconic love song during the wedding ceremony over the weekend, but Justin's performance wasn't the ONLY stand-out moment from the star-studded event.
Among other memorable goings-on were Ed Sheeran covering Blackstreet's signature hit 'No Diggity' at the wedding reception, Justin jumping on stage with Carly Rae Jepsen for 'Call Me Maybe' and.... Tom Hanks showing off some seriously good dance moves!
Relive the moment Justin got up backed by a troupe of musicians to surprise Scooter with a performance of 'All You Need Is Love' during the ceremony:
Ed Sheeran getting his #SWAG on for a cover of 'No Diggity' is clearly a highlight from the night!
There was also the moment Justin Bieber and Carly Rae Jepsen dropped a duet of 'Call Me Maybe' and the wedding party EXPLODED!
PLUS... Tom Hanks singing 'This Is How We Do It' during the celebrations is a MUST-SEE:
And finally, a picture of the happy couple. Because, why not?