Coolest Guy In Music? 12 Live Duets That Prove EVERYONE Wants A Piece Of Ed Sheeran
9 November 2015, 15:48 | Updated: 9 November 2015, 16:37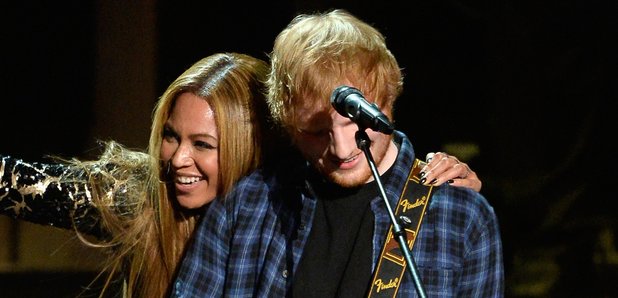 From Beyonce and Demi to Rudimental and Sir Elton John, Ed can pull off a celeb duet like NO other.
It's not news to anyone that Ed Sheeran's a pretty cool guy - he can sell out Wembley fricking Stadium after all - but his recent collabs and duets have made us realise just HOW popular Ed is in the celeb world.
It seems like anyone who's anyone wants to nab Mr. Sheeran for a cheeky appearance on their latest tour and quite frankly we don't blame them one bit - he's got the talent, likability and cheeky charm to make pretty much ANYONE fall at his feet.
From Sir Elton John to Queen Bey herself, check out the Ed Sheeran duets we could quite happily watch on loop, like, forever:
Ed Sheeran And... The Weeknd!
Watching Ed and The Weeknd sing 'Dark Times' together will remind you just how GOOD music is right now. Two pros, doing exactly what they do best... entertaining!
Ed Sheeran And... Rudimental!
Ed is basically the fifth member of Rudimental - they've teamed up on both 'Bloodstream' and 'Lay It All On Me' and they're unstoppable when they hit that stage together:
Ed Sheeran And... Beyonce!
Of course probably our fave Ed duet - and likely his fave of ALL time - have been his team-ups with Beyonce! Not only did he perform with her at Stevie Wonder's tribute concert, but they also sang 'Drunk In Love' together during one of her shows. AMAZING.
These two together pretty much break our hearts... you can tell they BOTH loved every minute!
Ed Sheeran And... James Bay!
Bring together two HUGE musical talents and what happens? The crowd are blown AWAY of course! Watch Ed singing 'Let It Go' with James Bay and see just why everyone lost it...
Ed Sheeran And... Sam Smith!
Sam Smith is another of Ed's close pals, so when he popped up during one of Sam's shows to duet on 'Stay With Me' of COURSE everyone loved it
Ed Sheeran And... Demi Lovato!
During his stay in the US, Ed couldn't wait to hook up with his bud Demi Lovato for a duet of 'Give Me Love'. We could easily listen to a whole album of this pair singing together. Now there's an idea...
Ed Sheeran And... Chris Brown!
You wouldn't normally put Ed together with a star like Chris Brown, but the duet below on 'Loyal' just goes to show how versatile Mr. Sheeran is, and how he can work with pretty much anyone
Ed Sheeran And... Elton John!
Yep, another bromance we never saw coming but now TOTALLY makes sense, it's Ed Sheeran performing live with Sir Elton John!
Ed Sheeran And... Tori Kelly!
Tori Kelly is another rising star Ed's been championing, and when you hear these two singing together you'll understand why fans were SO excited about this collab...
Ed Sheeran And... Taylor Swift!
Of course we couldn't miss off Ed's original pop BFF Taylor Swift! This pair have performed together a LOT over the years, but the song we'll always remember them for is their team-up on 'Everything Has Changed'. BFFs 4 Eva!
Ed Sheeran And... Wayne Rooney!
Yeah... this happened! You KNOW you're cool when even football legend Wayne Rooney wants to sing 'Lego House' with you down the pub...
Ed Sheeran And... Sesame Street!
And last but not least - the ULTIMATE proof everyone wants a piece of Ed Sheeran - he's EVEN teamed up with the cast of Sesame Street. Yup... Ed, you've made it!
You may also like...