Is Ed Sheeran An Usher At Courteney Cox's Wedding? Get The Latest Rumours!
19 August 2014, 11:58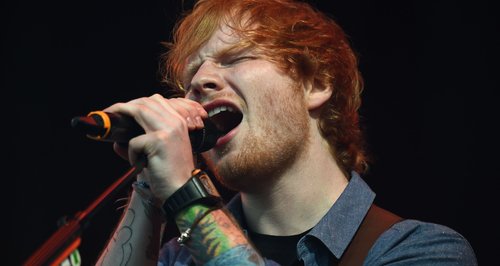 The 'Sing' star sounds like he'll be VERY busy on the big day of two of his best friends.
The Best Man? Giving the bride away? Well now it sounds like Ed may be an usher at Courteney Cox and Johnny McDaid's wedding as well!
Earlier this week rumours dropped that the 'Sing' star, good mates with both the Snow Patrol star and his Friends actress fiancé, could be both the Best Man and acting Father Of The Bride for Courteney when the pair get hitched later this year.
But fresh reports suggest he may just be an usher for the couple's ceremony, after becoming close with them and EVEN introducing the bethrothed last year!
"Not only is Ed great mates with Johnny, he is a close friend of Courteney's," a source told The Sun this week. "Ed said yes immediately when asked. Johnny's other best pal, singer Foy Vance, is also an usher.
"It's between him and Ed for best man, they'll probably share it," the source added.
"Johnny and Ed go back a long way, so when it came to picking a best man, it was a no-brainer for him," a source told the Daily Star over the weekend. "but Courteney has also grown very close to Ed this year, and really likes the idea of him giving her away.
"Her Dad died yesterday ago and she thinks he would do the job perfectly. He's a real gent," the source added. Poor Ed is caught in the middle and he's been trying to work out if he can be the best man and give the blushing bride away."
We all know Ed's a VERY multi-talented guy… so could he pull off all THREE roles at once on the big wedding day?
You may also like: