PICTURES: Demi Lovato Seen Outside Of Rehab For The First Time Since Her 'Overdose'
24 September 2018, 11:48 | Updated: 24 September 2018, 11:52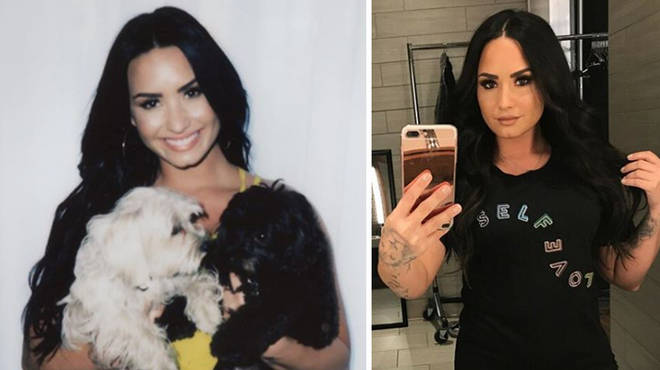 The 'Confident' star was seen looking healthy and happy as she left her rehab facility to get coffee with a friend.
Demi Lovato has been seen for the first time since her terrifying overdose as she temporarily left her rehab facility to grab a coffee with a friend.
Demi Lovato's Sister Posts Heartfelt Birthday Message Thanking Doctors For Saving Her Life
Demi was photographed looking happy and healthy as she chatted with another woman not far from the secret facility where she is expected to stay for at least three months to help her overcome her addictions.
The 'Sorry Not Sorry' singer was seen wearing a green jacket and a baseball cap as she chatted with the other woman in the street, and fans were pleased to see Demi looking like she is on the mend.
Demi was admitted to hospital after suffering an overdose at her home in Los Angeles in July, and she checked herself into a residential rehab facility shortly afterwards to help her recover and get back on track with her sobriety.
She's also reportedly been seen at a Starbucks with her ex-boyfriend, Wilmer Valderrama, looking very cosy, after he dropped everything to be by her side following the ordeal.
Her mother, Dianna De La Garza, also opened up about Demi's overdose recently, telling Newsmax TV, "We just didn't know for two days if she was going to make it or not. I was very concerned, and I was trying to be strong for her and for her sisters and for my family back home.
"I just feel like the reason she's alive today is because of the millions of prayers that went up that day... I couldn't have asked for a better team of people to save her life. We ran into the emergency room to be by her side, and she just didn't look good, at all. She was in bad shape, but I said to her, 'Demi, I'm here. I love you'...
"At that point, she said back to me, 'I love you too'. From that point on, I never allowed myself to ever think that things weren't going to be OK."
> Download Our Free App For All The Latest Demi Lovato News