Demi Lovato Overdose: 911 Call Released
27 July 2018, 11:11 | Updated: 27 July 2018, 11:34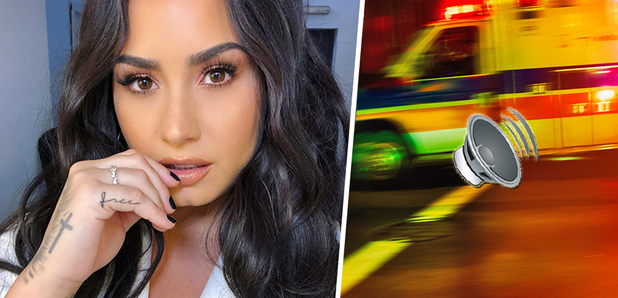 Footage of Demi Lovato's friend calling the ambulance following her overdose has been revealed.
Demi Lovato's recent hospitalisation following an overdose in Los Angeles shocked everyone and both fans and her fellow stars threw their support behind her at this difficult time.
Reports previously suggested that Demi had refused to tell paramedics what she'd taken when they arrived on the scene and now the 911 call of her worried friend speaking to the ambulance service has been released.
> Demi Lovato Official Statement Released Following Overdose Claims
TMZ shared the clip above, which saw Demi's friend ask for the ambulance to keep their sirens turned off as they approached the apartment, includes the emotional moment paramedics first reached the scene.
The latest update is that Demi is ready to be released from hospital and it's been claimed that she's set to take some time away to go into rehab.
Speaking to E!, a source explained, "She slipped up and thought she could handle it. This is obviously a huge wake-up call"
"Demi doesn't want to die and she's very grateful to be alive. She will be leaving the hospital and heading straight to rehab. Her family has been by her side supporting her and is getting her the help she needs."
Demi has been at Cedars-Sinai Medical Center in Los Angeles since Tuesday afternoon but reports she is ready to leave will come as a welcome update for fans.
She has previously entered rehab before, back in 2010, whilst it was only recently that she admitted she'd broken her sobriety in the lyrics of new song 'Sober'.
A friend close to Demi also revealed that she would be entering rehab outside of LA and appeared to accuse Demi's former sobriety coach Mike Bayer of betraying her.
The source revealed, "The decision has been made for Demi to be taken away from LA to get better. She will need several weeks of detox work and intense therapy. She and Mike were so close for so long, but this past few months there have been issues."
"The focus now is to reconnect her to her sober network before she can even think about getting back to LA, where she ended up falling back in with the wrong crowd. For the foreseeable future, her music career is on the back burner. This has been a huge scare for everyone."
> Download Our Free App For All The Latest Demi Lovato News!