Demi Lovato's Bodyguard Defends Her After Prank Receives Backlash
4 June 2018, 11:42 | Updated: 4 June 2018, 11:44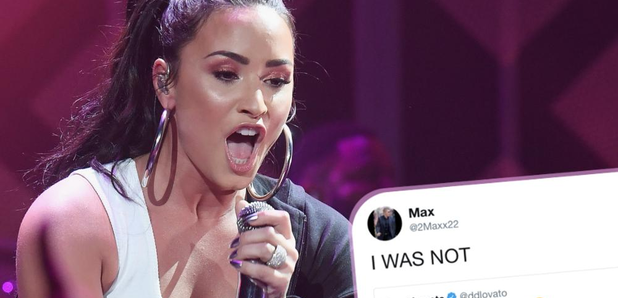 Demi Lovato's bodyguard, Max, has defended the singer, after she receives some negative reactions to a prank she pulled on him.
Demi Lovato. She's just a ball of lovable, isn't she? When she's not inviting Snoop Dogg round hers for a house party, she's jumping on Twitter to answer her 57.1m followers' questions.
After she discussed how much she liked pasta, one fan asked the 'Sorry Not Sorry' singer what the "funniest prank" she had pulled was.
> 33 Pics Charting Demi Lovato's Transformation Through The Years
Demi quickly responded to the message, saying "I hired a lady of the night in Vegas and send her to Max's hotel room to surprise him. She walked into his room without permission and grabbed him in his 'area' and he freaked the f*** out hahahaha"
However, this drew criticism, after some saw it as sexual assault on Max, her security guard. Demi soon after deleted the original post, after seeing the backlash, but defended herself, by saying "For all of those coming at me rn, listen to the lyrics of Warrior and maybe you'll have more compassion for someone who made a simple mistake.
"Of all people I know about sexual abuse. You don't have to educate me," continued the 25-year-old.
I swear I could tweet something about craving jelly beans and it would offend someone.

— Demi Lovato (@ddlovato) June 3, 2018
> Grab Our App And Catch All You Need To Know About Demi Lovato!
Max, the bodyguard in question, was quick to respond to the controversy, too. After Demi apologised to anyone who was offended, Max shared the post writing "I WAS NOT". He also shared his love for Demi Lovato, saying "Really! You guys all need to 'Grow Up'! It was a joke and a fun prank from someone whose incredible to work for and with."
Really! You guys all need to 'Grow Up'! It was a joke and a fun prank from someone whose incredible to work for and with. And does everything she can for her fans, family and friends. Love you @ddlovato

— Max (@2Maxx22) June 3, 2018