Beyonce Wore More Than The Entirety Of Your University Fees Just On Her left Boob Last Night
3 May 2016, 12:38 | Updated: 3 May 2016, 13:05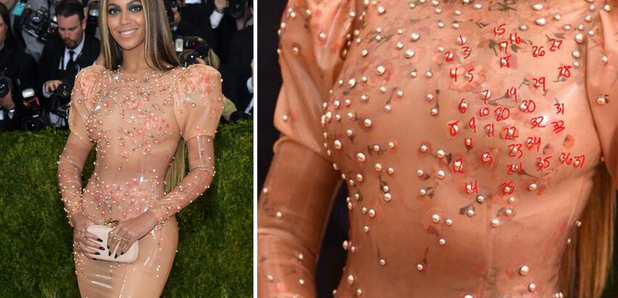 It's one of the biggest nights in the showbiz calendar and last night Beyoncé rocked up to the Met Gala wearing this bad boy of a dress.

The custom-made Givenchy dress is 100% Talalay latex and decorated with pearls which are rumoured to be $8000 EACH.
Beyoncé's dress was consist of 100% authentic Talalay latex and pearls that are priced at $8000 each! #MetGala pic.twitter.com/CZ8RwEBTDj

— LEMONADÉ (@Beyupdates_) May 3, 2016
Someone has been quick to note that on Queen Bey's left boob alone, there's 37 pearls.

If they actually are $8000 each (admittedly this hasn't been confirmed), well, that's quite a bit of money.

Imagine what you could do with just one pearl.
lemme pluck one of those pearls. @Beyonce pic.twitter.com/FcyUKB1eVo

— MBP (@_chocbeaute) May 3, 2016
Or five.
Heyy Beyoncé I just need like 5 pearls then I'll be out your hair https://t.co/b4btbc4fNm

— Rae (@_AmberRae) May 3, 2016
You'd no longer need to debate over that morning Starbucks.
When beyonce has like 500 $8000 pearls on her dress and I have to thoroughly debate buying Starbucks or not

— angela c (@AngelaCarabe0) May 3, 2016
Despite the dress costing a lot, some people weren't fans of her outfit.
Beyonce looked like a skin disease ngl. The pearls on her dress are worth around £5,500 EACH and it's still ugly. pic.twitter.com/VQ9gOZcIVE

— ~ (@lvbnx) May 3, 2016
Like, a few people didn't have nice things to say at all.
i love beyoncé so much but wtf is that a condom dipped in expensive pearls she's wearing https://t.co/y9l38wdHza

— aly (@zaynthetic) May 3, 2016
And some people can smell something fishy...
I've heard the pearls on Beyonce's dress cost $6000, $8000, and $3000 each. Someone's lying

— haley (@assbuttrickyl) May 3, 2016
Either way, let's just agree the dress will be super expensive and she looked the bee's knees.