Beyoncé's Set To Be Even Richer With Her New Christmas Capsule Collection
23 November 2017, 16:10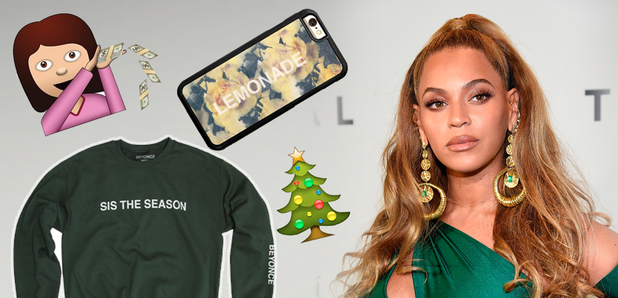 "Sis the season."
When you're named 2017's highest paid female musician in the world you'd think that you'd just chill at home in your mansion with a cuppa and Netflix and just stop working for the rest of your life.
But nope. Not Beyoncé. Just on Wednesday it was announced that she raked in a head-spinning $105million this year pretax and already Queen Bey's on the ball to add to that unreal fortune.
Like seriously Beyoncé, give the rest of us a chance!
So with Christmas fast approaching, the 'Shining' singer thought it upon herself to give the world a capsule collection just in time for the holidays and it's very Beyoncé.
If you like the sound of some Bey baubles for your Christmas tree, a hoodie with the singer's face on it and some Yonce hoodies and fancy having a "thicc holiday," you might want to head over to her site as fans are already on it.
One excited fan tweeted: "Jdjcekfmkd I was trying to save money this month, but this new Beyoncé holiday merch has me impulse buying s***. She's f****** with my financial responsibility again. #haveathiccholiday."
New Beyoncé Holiday Merch! https://t.co/ysJABSI5QB pic.twitter.com/bD2gFYKRKw

— BEYONCÉ LEGION (@Bey_Legion) 22 November 2017
Beyoncé just released Holiday Merch .. Rihanna just released stunna liquid lipstick ... My pockets can't keep up

— Cardi Ni (@beautifullyNiA) 23 November 2017
anyone wanna buy me beyoncé merch for christmas? thanks

— Jackie Molina (@jackieeeem_) 23 November 2017
If anyone's wondering what I want for Christmas beyonce just dropped some holiday merch !!!!!

— Rosina (@rosinaa_) 23 November 2017