WATCH: Blue Ivy Cost Beyoncé $19k With Hilarious Auction Bid
19 March 2018, 11:23
Jay-Z had to grab the bidding paddle as Blue Ivy frivolously bid thousands of dollars at an art gala.
Blue Ivy has proven once again who wears the trousers in the Carter household and having revealed her expensive taste, we reckon they're priceless, diamond encrusted trousers.
Popping along to the Wearable Art Gala hosted by none other than Beyoncé's mum Tina Knowles, Blue sat front and centre in between parents Bey and Jay Carter and wasted no time stealing the show.
Wearing matching gold with her mum, the evening saw a live auction take place and it seems Blue Ivy realised a newfound hobby for fine art, bidding $17,000 on an acrylic painting of the actor Sidney Poitier. Someone out-bid her, so she casually bumped it up to $19k, obvs.
We are absolutely living for her evil giggle as she throws a couple thou' down to her parents (faux) dismay. Rich people probs.
Jay-Z jokingly tried to curb the six-year-old's spending spree by wrestling the auction paddle from her, but he isn't fooling anyone. After this year's Grammys the whole world knows who is really runnings things as Blue 'shhh'd' her parents clapping in THE most iconic way.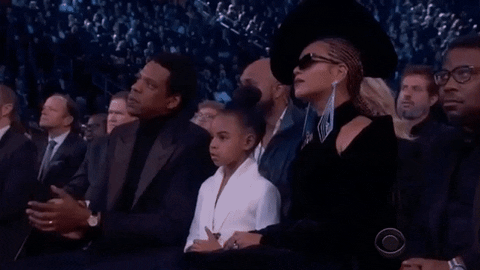 Picture: Giphy
We knew it was only a matter of time before Blue released her inner Diva and we are loving it, even if it reminds us how poor we are.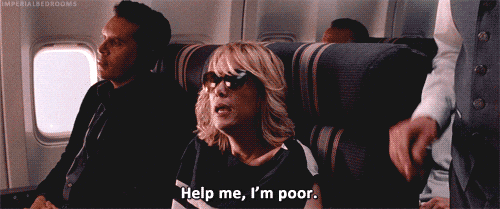 Picture:Giphy
It's got us wondering when the twins will start with this sort of lavish behaviour? The potential for double trouble must have Bey and Jay clutching onto their wallets for dear life.
And let's not even get started on Blue corrupting the younger pair...
We can't wait.
Watch Jay-Z's brutally honest interview about cheating on Bey here