Take A Sneak Peek At What Went Down At Beyoncé's EPIC 70s Soul Train Birthday Party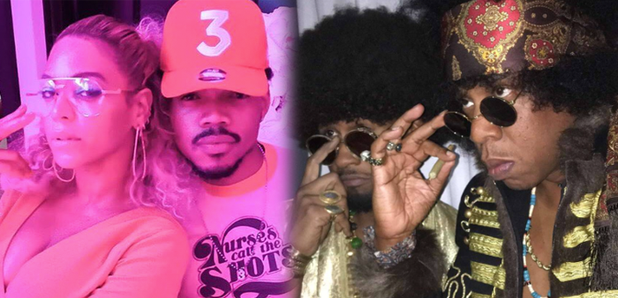 When Beyoncé throws a birthday party you know it is going to be a big deal and guess what...her 35th was exactly that!
Queen B is one of the biggest artists in the world (that's pretty much a fact at this point), so when she decides it is time to celebrate her 35th birthday party you know it is going to be something VERY special.
Partygoers included hubby Jay Z, Usher, the sensational Chance the Rapper, Alicia Keys and even New York Knicks basketball maestro Carmelo Anthony.

PIC: Instagram/RollingOut
The party took place on Monday 5th September and in true Foxy Cleopatra style it was soul train themed! Jay Z dressed up like Jimi Hendrix, Usher rocked an oversized afro and of course Alicia Keys took the headband game to a whole new level.
Let's not forget that it wasn't just the grown ups getting into the birthday spirit. Bey's adorable daughter Blue Ivy was on hand to provide such much needed cuteness to the entire event.
The cheeky toddler was pinching pieces of the birthday cake whilst Bey addressed her family and friends and event stole the show a little bit as she shouted out, 'Happy Birthday Mummy' #Aww.
Blue wishing Beyoncé a happy birthday pic.twitter.com/Lstc4LfGYF

— BEYONCÉ LEGION (@Bey_Legion) September 6, 2016
The day before the party, Beyoncé and Jay Z were seen partying it up at the 'Made In America' festival. Chance The Rapper even sang a personalised version of The Simpsons' 'Happy Birthday Lisa'.
You may also like...