WATCH: Is Beyoncé Pregnant With Her Fourth Child?
9 July 2018, 15:04 | Updated: 18 July 2018, 15:53
People think Beyoncé may be pregnant again after videos from her On The Run II tour with Jay-Z show her with what fans are calling a 'bump'.
Beyonce and Jay-Z only wished their twin babies Rumi and Sir Carter a happy first birthday during their Manchester leg of On The Run II tour recently, but now many think the 'Lemonade' singer already be pregnant again after new videos emerged.
The pair already have twins Sir & Rumi, as well as daughter Blue Ivy, who they embarrassed with their raunchy tour footage recently, but fans took straight to Twitter to share the new footage alongside the caption 'Beyoncé is really pregnant again.. and she's about to be a mother of 4 WOW'. Check out the full video above!
Beyoncé And Jay-Z Posed With Lookalike Twins During The First Night Of Their 'On The Run II' Tour

Further fan-shot footage shows Beyoncé and Jay Z performing at one of their recent tour dates, with fans appearing to suggest that the video proves the Bey pregnancy rumours are true...
Girl. pic.twitter.com/KOLjjlFgcW

— d' (@deli_AU) July 9, 2018
Fans have been speculating about another baby announcement for a while now and this hasn't done anything to make the rumours go to bed...
I mean I get she was tryna be sexy but let's talk about how she rubs the belly and walks away smiling

— michyysalazar (@michyysalazar) July 9, 2018
SHES CREATING THE NEXT DESTINY'S CHILD BEFORE OUR EYES

— Adjtoberfest (@ADJTOBER) July 9, 2018
Her favorite number is 4 so I'm not surprised she wants to be surrounded by it

— MISUNDERSTOOD (@negative_1plus3) July 9, 2018
The 'evidence' of Beyoncé's pregnancy is being shared across social media on a daily basis, with many fans convinced that she's about to become a mother of four, having already given birth to Blue Ivy, Rumi and Sir.

But beyonce is DEFO pregnant pic.twitter.com/wBPO4aF8Ro

— Chloé (@chloemilne96) June 9, 2018
Bey's tour wardrobe has consisted of plenty of figure hugging bedazzled leotards, but she's paired most of them with jackets or distracting details like oversized arms that can cover her stomach. But B is the queen of fashion and oversized jackets are totally in right now.
Look I haven't seen a tour outfit that makes me say "oh she's definitely not pregnant". She's wearing blazers, capes, and extra accessories around her abdomen. I'm suspicious. Beyoncé might be pregnant again. https://t.co/c9IaMyoBDX

— Tara Vancil (@tarahearsmusic) June 9, 2018
A love Beyoncé and think she looks fabulous but was it just me who thought she looked a wee bit pregnant last night ??

— Katie McGavin (@katie_mcgavin) June 10, 2018
Bey and Jay's tour is basically one massive display of their love, with videos of the renewal of their marriage vows and messages about their love shining behind them as they smooch on stage in between playing their hits, so it wouldn't be such surprising news if she was having another little Carter!
Let the 'is she isn't she' games begin!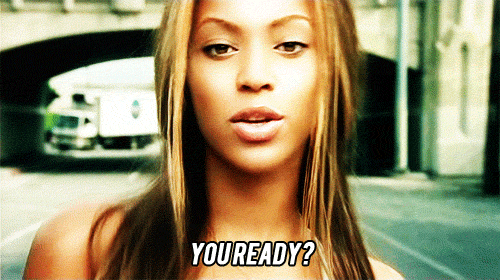 Picture: Giphy
Download Our Brand New App For The Latest Bey And Jay News