Ariana Grande 'Sweetener World Tour' Dream Setlist: A Review
26 October 2018, 16:59 | Updated: 26 October 2018, 17:10
Ariana Grande has revealed she's taking her 'Sweetener' album on a world tour in 2019 and we've put together what we consider the dream setlist.
After plenty of headlines recently about Ariana Grande and Pete Davidson's split, the 'God Is A Woman' star announced that she was heading out on a world tour, so we decided to put together our dream setlist for the show.
> WATCH: Ariana Grande Sing Wicked's 'The Wizard And I' In Special Anniversary Show
Of course Ariana won't just be playing songs from the 'Sweetener' album, so we're throwing some absolute classics in there too - plus songs we haven't heard live in what feels like forever, so here goes nothing...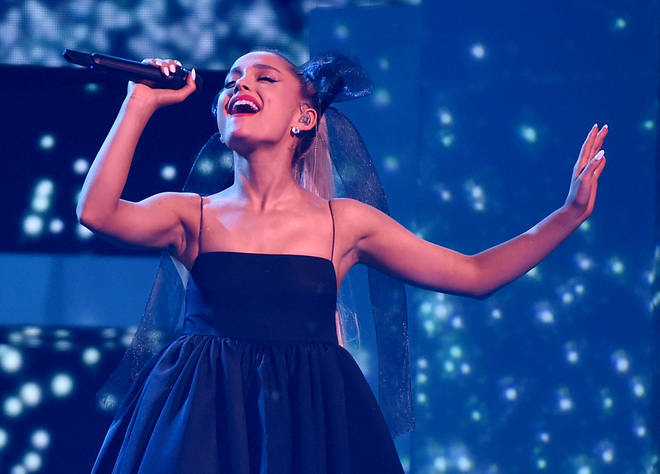 Set Opener: 'God Is A Woman'
It was one of the songs that helped launch the whole AG5 era and it is an incredible opening to the show. Just picture it as the lights going out before Ari's golden voice belts out those first notes...priceless.
'goodnite n go'
Keeping it upbeat, 'goodnite n go' is another absolute anthem from the 'Sweetener' album that helps kick the show off in serious style.
'blazed'
Ariana welcomes Pharrell to the stage to perform the brilliant 'blazed' and shows off ALL the moves with an epic dance routine which proves she's at the top of her game.
'sweetener'
With Pharrell's influence on this album, it'd be rude not to invite the legendary rapper/producer to remain on stage for the album's title track.
Pharrell's adlibs from the side of the stage add to a seriously sassy dance break from Ariana and her group of all-female dancers and the show is already one to remember.
'successful'
Staying in that Pharrell vibe, the crowd goes wild when those memorable opening beats of the song play out around the arena.
Confetti rains down towards the end of the song covering the crowd as Ari throws some power poses on stage, re-affirming her status as the strong and successful women we know her as.
'everytime'
After embracing Pharrell before he exits the stage, Ari bursts straight into 'everytime' with yet more powerful dance moves before hitting some seriously eye watering notes at about 2 minutes 16 seconds in. Wow.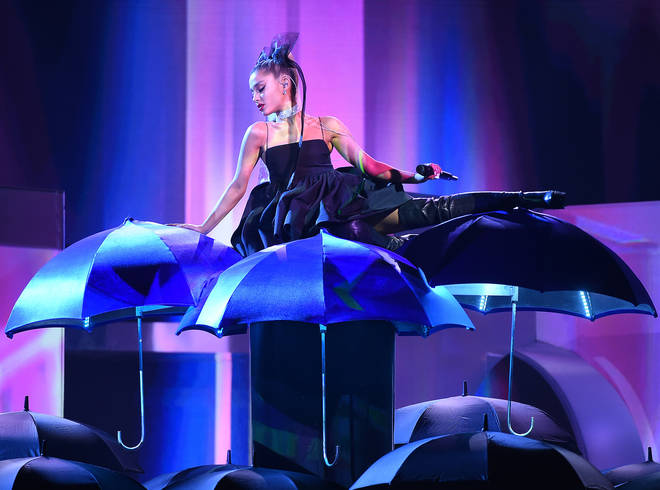 'borderline'
The special guests on stage aren't limited to just Pharrell and fellow legend Missy Elliott bounds onto the stage for a lively performance of 'borderline', with the dancers using ice creams as props during a standout routine - see what they did there?!
'the light is coming'
Ari fuses 'borderline' with 'the light is coming' with Missy Elliott still on stage and she calls out Nicki Minaj to perform her brilliant rap on the track.
Ariana isn't involved in the dance on this one as she sings whilst standing in a group with Missy and Nicki as the all-female crew perform an energetic routine that also sees a specially curated light show fills the stage.
'Side To Side'
As Missy leaves the stage, Ariana teases the crowd with the first few notes of 'Side To Side'a few times and she has a playful moment with Nicki before bursting into that iconic hook.
It's undoubteldy the best live performance of the song the two queens have ever done and the crowd can't believe how lucky they are to be witnessing such magic.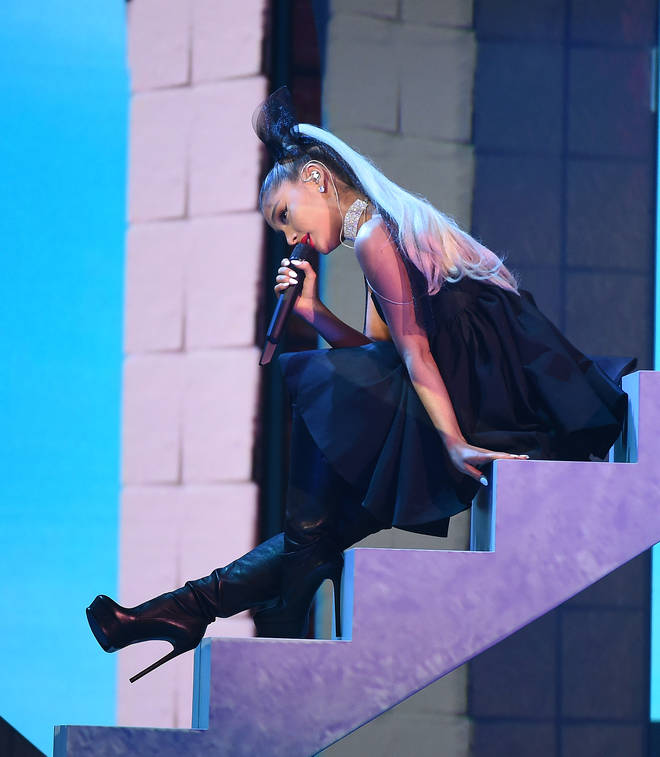 'Into You' (Acoustic)
Sticking with the 'Dangerous Woman' era, Ariana puts on a serious show to remember by performing 'Into You' but she opts for an acoustic version in a brief stripped back moment of an otherwise intense live show.
'Tattooed Heart' (Acoustic)
After asking fans if they remember her debut album 'Yours Truly' (of course we do Ari!), she performs a stunning version of the beautiful 'Tattooed Heart' and there are plenty of tears in the crowd.
It's an emotional moment in the show and one that fans will certainly remember.
'no tears left to cry'
Bringing back the 'Sweetener' vibes, Ariana shows off her vocal prowess with the infectiously catchy song 'no tears left to cry'. After the song launched the AG5 era, it's certainly a special moment on stage and the dancers are welcomed back with yet another awesome routine.
'Break Free'
Having left the stage after finishing 'no tears left to cry', Ariana doesn't disappoint by re-emerging for the absolute fa-favourite 'Break Free'.
The lights, more confetti and even some lasers - everything comes together for a stunning live performance and Ariana's impeccable vocals shine through once more. How she holds onto THAT note at 2 minutes and 54 seconds we'll never know.
'One Last Time'
Keeping the energy levels up, Ariana's dynamic live performance of 'One Last Time' has fans convinced this must be the show-closer, however Ari still has one trick up her sleeve.
Set Closer: 'breathin'
After the crowd realise that Ariana hadn't actually performed 'breathin' during the main 'Sweetener' album segment earlier in the show, Ari thanks everyone for coming and making the show so special before putting on a momumental closing performance.
The confetti is out one final time towards the end of the song and it brings one of the greatest live shows we've ever seen to a terrific climax.
Well...we can dream!
> Want Tickets To Capital's Jingle Bell Ball Before Anyone Else? Download Our App Now To Access Pre-Sale!