Ariana Grande Shares An Emotional Response On Instagram After Becoming An Honorary Citizen Of Manchester
13 July 2017, 10:42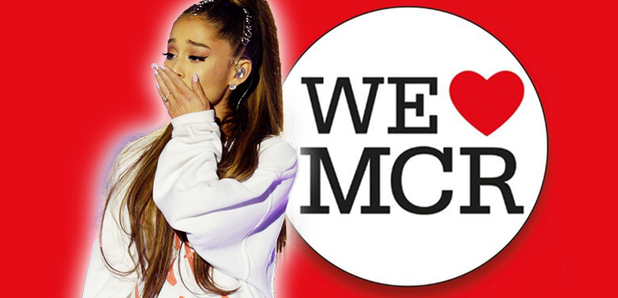 The leader of the council has also shared a few words about Ari!
After her incredible response in the wake of the tragic attack at her concert in Manchester earlier this year, Ariana Grande is to become the FIRST honorary citizen of Manchester.
Ari's #OneLoveManchester concert raised a staggering £3MILLION for those affected in the Manchester attack. What a hero.
Ariana Grande's Mum Greeted Fans In The Crowd At #OneLoveManchester & Told Them Not To Be Afraid
After hearing the news that the council were making her an honorary citizen, Ariana shared this post on her Instagram...
Alongside quotes from the leader of Manchester City Council, Ari wrote, 'I don't know what to say. Words don't suffice. I'm moved and honored. My heart is very much still there. I love you. Thank you.'
The quotes from Sir Richard Leese, the leader of Manchester City Council saw him describe Ariana as, ' a young American woman for whom it would have been understandable if she never wanted to see this place again. But no - instead she, as an artist, a performer, was determined that she would not perform again until she had returned to Manchester to perform'.
He added, 'In doing so, she brought comfort to thousands, she raised Millions for the We Love Manchester Emergency Fund and became the first patron of that fund. And that's why I propose that Ariana Grande is made the first honorary citizen of the city of Manchester.'

(Pic: Getty)
In a previous speech, Sir Richard Leese had said, "We've all had cause to be incredibly proud of Manchester and the resilient and compassionate way in which the city, and all those associated with it, have responded to the terrible events of 22 May, with love and courage rather than hatred and fear."
"Ariana Grande exemplified this response. I think many people would already consider her an honorary Mancunian and we would be delighted, if the council approves the proposal, to make it official."
Not only did Ariana throw a show in tribute to the fans, she also visited many of those injured on the night of her concert.
WATCH: This School Girl Crying Whilst Singing With Ariana Grande Is Absolutely Heartbreaking
The #Arianators have flooded social media praising the decision to make Ari an honorary member of Manchester...
Ariana getting the honorary citizenship of Manchester that she deserves has made my day

— I FINALLY MET ARI (@Iovin_ari) June 14, 2017
Ariana's going to receive an honorary citizenship award from Manchester holy crap i'm so proud

— yasmin (@whytryregui) June 14, 2017
Honorary Manc? I think she more than deserves it! Thank you @ArianaGrande. Welcome to Manchester. We do things differently here

— Michael Murphy (@murphium) June 14, 2017
Watch as Ariana Grande was joined on stage by the Black Eyed Peas to sing 'Where Is The Love?' in Manchester.