Ariana Grande's Mum Greeted Fans In The Crowd At #OneLoveManchester & Told Them Not To Be Afraid
5 June 2017, 11:26 | Updated: 5 June 2017, 11:44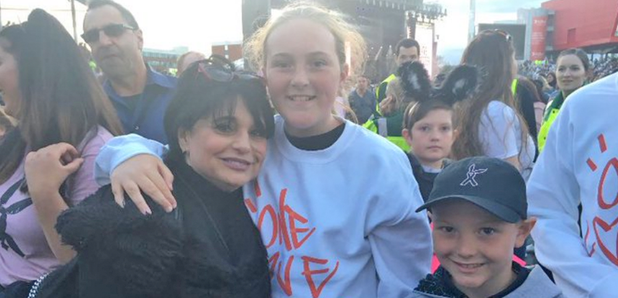 Ahead of watching her daughter take to the stage, Joan Grande was out supporting the fans!
Following the recent Manchester attack, Joan Grande has been supporting her daughter Ariana. They bravely decided to return to the city to put on a remarkable tribute show to raise money for the victims of the tragic events which had occured less than two weeks before.
Ariana was the driving force behind the event and her mum was there to support her, but before everything got underway, Joan headed out into the crowd to meet fans affected by the recent events and tell them not to be afraid...
Abigail is refusing to wash her hand after she met Ariana Grande's mum tonight..bless her x pic.twitter.com/k8yon3oH7p

— Craig Bartle (@bartz29) June 4, 2017
Ariana Grande's mum is strolling through the crowd telling fans: "do not be afraid" #onelovemanchester pic.twitter.com/v09Y3VXdql

— Helen Pidd (@helenpidd) June 4, 2017
Joan had been present in the front row at Ariana's show during the attack in Manchester and helped terrified fans to safety as the horrific events unfolded.
During the #OneLoveManchester show, people were also raising money and the British Red Cross have revealed that over £2,000,000 was raised by the end of the event! What an amazing outcome from a stunning evening of live music and positivity.
We've raised an incredible £2.35 MILLION during #OneLoveManchester!
Thank you so much for your donations. https://t.co/a43mYUP58P pic.twitter.com/JeV1yl2d0L

— British Red Cross (@BritishRedCross) June 4, 2017
Miley Cyrus and Pharrell took to the stage for a duet, performing Pharrell's infectiously brilliant tune 'Happy'...