EXCLUSIVE: Ariana Grande On Loving Nicki Minaj And Jessie J
20 October 2014, 12:11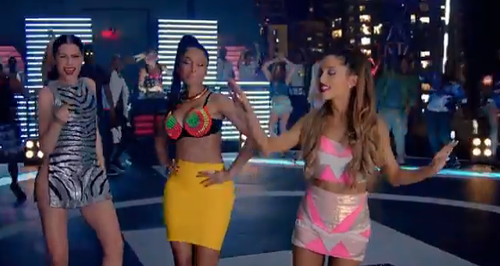 Listen to our chat with Ariana about her friendships with the two female superstars.
Ariana Grande has chatted exclusively to Capital about how much she loves her 'Bang Bang' partners Jessie J and Nicki Minaj.
The 'Problem' star stopped by to chat to us last week, where she said she "loves" 'Anaconda' rapper Nicki and thinks 'Sweet Talker' singer Jessie J is "so talented".
Ariana Grande On Loving Nicki Minaj And Jessie J...
"She's the sweetest. I adore her so much," Ariana exclusively told Capital's showbiz reporter Kevin Hughes. "I mean I could sit here all day and talk about how much I love that woman. I love her so much."
Ariana Grande On Loving Jessie J...
"Of course! I'm so excited about ['Sweet Talker']," Ariana added, when asked about Jessie J's new release. "I love her voice. She's so talented it's insane.
"And I love her incredibly precise runs! They're so on point! I love her voice."
Ariana Grande featured on Jessie J's summer single 'Bang Bang' alongside Nicki Minaj.