WATCH: 5SOS Replace Their Flamethrowers With Confetti After Michael's Accident
15 June 2015, 09:55 | Updated: 15 June 2015, 10:42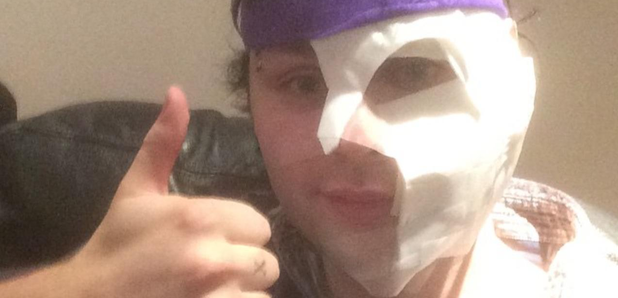 Mikey's hair caught fire after the accident on stage during a show in London.
5 Seconds of Summer were forced to stop their concert in Wembley on Saturday night (13th June) after an accident with some pyrotechnics left guitarist Michael Clifford needing hospital treatment.
The Aussie four-piece were rocking out to 'She Looks So Perfect' when Mikey got a little close to the pyro, setting his hair and shirt on fire.
WATCH MIKEY I HOPE HES OKAY I LOVE YOU SO MUCH AND IT WAS AN AMAZING SHOW pic.twitter.com/rGdlCudGGk

— ☪GET WELL SOON MIKEY (@ImIn5SOSLand) June 13, 2015
The band had to cancel their show as Michael was rushed to hospital. #5SOSFam across the world were sending message of support in their millions, with Michael staying as the top trend on Twitter all night.
Bandmate Calum Hood was also apparently burned - with his arm touching the on-stage flamethrower.
Michael took to Instagram in the early hours of this morning to let everyone know that he was doing ok, but we were SO worried!
We're sure Mikey will make a full recovery, especially with his awesome bandmates by his side!
No one ever wants to see your best friend in the state I saw mike backstage. He's a trooper and is ok.

— Calum Hood (@Calum5SOS) June 13, 2015
Proving the that lads are absolute troupers, Michael and Calum joined Ashton and Luke back on stage at The SSE Arena in Wembley on Sunday night to put on another AMAZING show.
Feeling loads better and my face is fine :) excited for the show tonight \m/

— Michael Clifford (@Michael5SOS) June 14, 2015
The boys clearly didn't want to risk playing with fire again, so the on-stage flamethrowers were replaced with confetti cannons for their final London show.
5SOS USED CONFETTI INSTEAD AND IT LOOKS SO PRETTY pic.twitter.com/goO91xO8A7

— c-dizzle ๑୭̥*゙̥ (@sexuaIcaI) June 14, 2015