Zac Efron & The Rock Have Started Filming For Baywatch Movie - & We're Drooling Already
23 February 2016, 08:47 | Updated: 4 December 2017, 11:10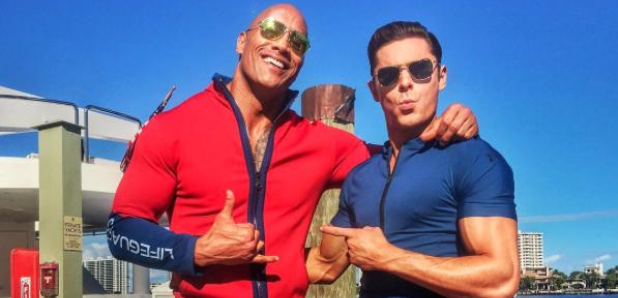 So. Many. Muscles! Zac and Dwayne Johnson shared some behind the scenes snaps from their latest filming project.
Here's something to brighten you Tuesday morning - Zac Efron and Dwayne 'The Rock' Johnson have started filming for a new Baywatch movie... and they shared some behind the scenes snaps of the action, too!
Zac and Dwayne both posted photos on Instagram - and it's got us seriously hyped for the movie after seeing all that tan and all those muscles! Now these are lifeguards we could SERIOUSLY get on board with!
Mr Efron posted about his first day "protecting the bay" - (and gave away a few of the green screen secrets at the same time) - as he posed with The Rock in a convertible:
Dwayne also posted a pic of the pair of them in their lifeguarding outfits, telling his followers, "EXCLUSIVE FIRST LOOK: #BAYWATCH Day 1. My character 'Mitch Buchannon' just gave @zacefron's character 'Matt Brody' the all important beach speech about what it means to have manly 'Alpha balls'.
"Zac's ad-libbed responses were brilliant! Talented and great dude. World get ready to have some fun, 'cause the beach will never be the same again. #OnSet #BAYWATCH #Day1#AlphaBalls#NowWhoNeedsMouthToMouth?"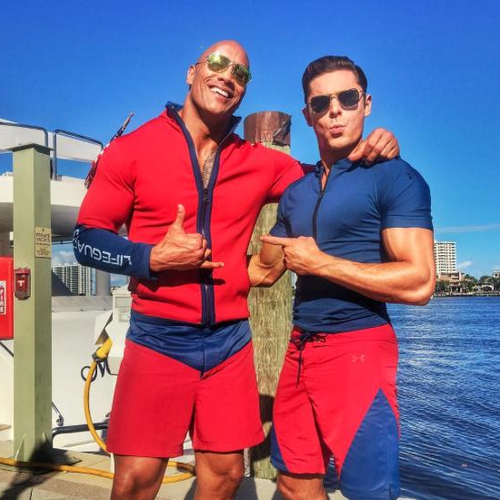 Zac first confirmed that he would be in the movie back in August via Twitter, telling fans he would be starring alongside Dwayne in the movie adaptation of the tv series:
So stoked brother - baby oil for 2 plz https://t.co/bgf38QGli4

— Zac Efron (@ZacEfron) August 10, 2015
The movie will be an adaptation of the hit TV series, which ran from 1989 to 2001 and starred David Hasselhoff along with Pamela Anderson. The Paramount production has reportedly been in negotiations for some years, and has finally gone into production, directed by Seth Gordon.
The story follows Dwayne's character, a veteran lifeguard who is forced to team up with a younger lifeguard (aka Zac) to save the beach from an environmental disaster according to reports from The Wrap.
In addition to Zac, The Rock also took to Twitter at the time to tease just WHAT exactly we can expect from the movie:
Shirtless heaven and bikini dreams. And some good ol' fashion "this is my beach bitch" RATED R humor. #BAYWATCH https://t.co/0PMv3lzYCO

— Dwayne Johnson (@TheRock) August 10, 2015
Yep, we're already counting down the days - and let's hope they keep giving us more of these photos too!