Zac Efron: 10 GIFs To Make You Swoon From 'Running Wild With Bear Grylls'
31 July 2014, 13:48 | Updated: 4 December 2017, 11:10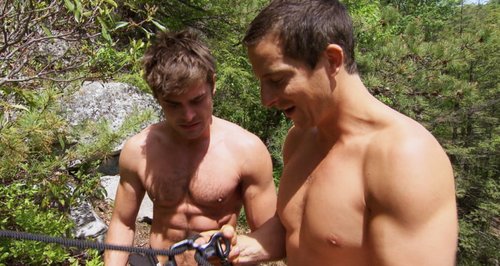 Trust us, you are NOT ready to see Zac Efron working up a (shirtless) sweat as he treks through the mountains with Bear Grylls. Get ready to swoon yourself silly...
Zac Efron can't seem to stop taking his clothes off this year... and we don't blame him with a body like he has!
The Hollywood A-Lister has just featured on NBC's Running Wild With Bear Grylls, and we couldn't resist gathered together all the BEST GIFs of Zac in action in all his shirtless glory!
Whoever decided to take Zac Efron and dump him in the mountains with Bear Grylls was a genius!
Like, seriously. A genius.
Because not only was Zac shirtless about 97% of the time...
But he also got wet, which pretty much turned the whole thing into a Diet Coke advert.
Zac didn't just stand around looking pretty, though.
He actually got VERY stuck in with some seriously terrifying activities...
And clearly, he was loving it!
Still, Zac got to teach Bear a few lessons of his own.
And from it, a beautiful #bromance was born...
A slightly gross one, maybe, but still nice.
So yeah, thanks Zac Efron for ditching your clothes for 48 hours and giving us possibly the greatest TV viewing experience of our entire lives.
You may also like…