#WayBackWHENsday: 7 Headline-Grabbing Moments From This Time Last Year
30 July 2014, 07:00 | Updated: 4 December 2017, 11:10
Poor Louis, one minute you're performing 'Moments' with your bandmates, the next someone in the crowd lobs a shoe at you! Don't worry Tommo, it's happened to the best of us!
It's safe to say that One Direction have become one of biggest boybands on the planet, so it's no surprise that the boys might have developed a bit of an ego. Hunky Zayn Malik joked (?) to GQ Magazine that he wants a monument of himself built in his hometown of Bradford. Maybe you could make a start on it now with your big mallet, Zayn?
Picture: Blame-narry Tumblr
No, she wasn't hitting out at one of her (many) exes, she was actually sharing a stage with singer Carly Simon on her 'RED' tour in America. Legendary!
Rumours were circulating in 2013 that Ed Sheeran and Taylor Swift had agreed on a marriage pact, to both get hitched if they were still single at 30. Ed actually revealed that he does have one of those pacts, but not with who you'd think...
"That story isn't true. I do have one of those pacts with a friend actually — my next door neighbour but it's [for when we're] 40."
Gutted!
Picture: Naiotesao Tumblr
We've all been there - we've gone to a gig of somebody we idolise, got so close to touch them, and fainted in front of thousands of people. Actually we haven't all been there, but Antoine Rouse has! The 22-year-old fainted at a Beyonce concert in Kentucky last year and become an Internet star!
Katycats in Los Angeles woke up to an amazing sight this time last year! To confirm the name and release date of her upcoming album, the 'Firework' superstar coated a gigantic lorry in gold and had it driven around America. What. A. Sight!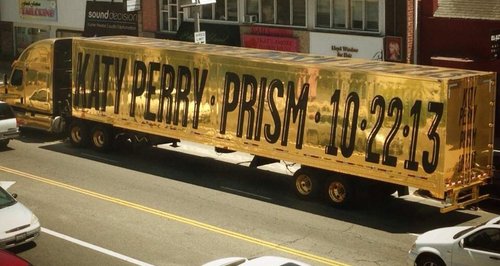 Out of all the artists that the 'Boyfriend' singer could cover live on his 'Believe' tour, Marshall Mathers wasn't on our list. But Beliebers in Eminem's hometown of Detroit were treated to a special performance of 'Lost Yourself' during his set.