#WayBackWHENsday: 7 Headline-Grabbing Moments From This Time Last Year
28 May 2014, 07:00 | Updated: 4 December 2017, 11:10
The nation was captivated by J Lo's performance on the semi-final of Britain's Got Talent.
The latina singer swung by Capital and defended her choice of sexy outfit.
"I feel myself kind of tame compared to everybody else" she told Max exclusively on her Sunday evening show.
Beyonce got an unwanted booty slap...
During one of Queen Bey's live shows in Copenhagen, she heads to the crowds for a sing-a-long of 'Irreplaceable' when one cheeky fan decided to give her a pat on the behind. "I will have you escorted out right now, alright?" was her rather blunt response. Ouch! Remember Bey, being so bootylicious can be a curse (and it could have been worse!)
Credit: beyoncegifs Tumblr
Ke$ha had to defend herself... Again...
Just a week after having to defend herself over drinking some warm yellow liquid, Ke$ha (she still had the dollar sign back then) explained to the world he interesting choice of hair-do in her latest video. In the promo for 'Crazy Kids', she sports an interesting set of blonde cornrows... "I like kind of looking like a gangster."
Credit: Tumblr
Union J's Jaymi Hensley opened up about his coming out story...
The 'Carry You' star chatted to Attitude magazine about his decision to come out as gay during his time on The X-Factor, comparing it to when former winner Joe McElderry revealed his sexuality.

"If he hadn't accepted that or been out already, to do it publicly, it was a really different ball game that I was in. I've been out since I was 14."
Credit: george-myboyfriend-shelley Tumblr
An impostor pretending to be PSY fooled the world!
Dubbed 'Fake PSY', Denis Carre attended the Monaco Grand Prix and the Cannes Film Festival pretending to be the 'Gangnam Style' singer. After being outed as an impostor, he revealed to GQ that he hoped to become a celebrity lookalike.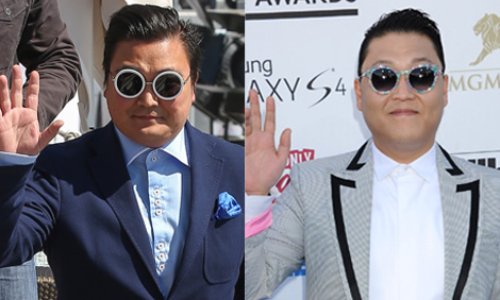 Want to eat like the One Direction boys? Well now you can!
Sarah Nicholas, the boys' personal chef, revealed the band's favourite foods whilst out on the road. Apparently Liam loves his steak, Louis will always opt for a bowl of Special K, Zayn loves a bit of spag bol while Niall craves a bit of sausage and mash. The only mystery remaining was what Mr Styles like to eat - well this cheeky backstage footage might give us a clue!
Credit: 1d-lurve Tumblr
Marvin Humes gave one lucky Capital listener a huge surprise!
Just after we announced to the world that Marvin would be taking over the Capital Weekend with a second show on Saturday nights, the former JLS star greeted a swarm of fans outside of the studio and gave one of them a special treat - a pair of tickets to Capital's Summertime Ball!
Loving the trip down Memory Lane? Hit us up @CapitalOfficial on Twitter#WayBackWHENsday and let us know what was rocking your world this time last year.