#WayBackWHENsday: 7 Headline-Grabbing Moments From This Time Last Year
25 March 2015, 07:00 | Updated: 4 December 2017, 11:10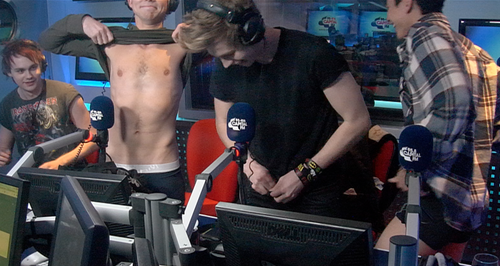 5SOS got naked, Samuel L Jackson becames a viral sensation and Pharrell got the Family Guy treatment - this is what we were all talking about last year.
Remember The Chainsmokers' HUGE hit form early 2014, '#SELFIE'? Well it was that much of a massive talking point that we couldn't resist the opportunity to get one of Hollywood's leading men to put his own unique spin on the viral hit. LEGENDARY!
Less than an hour after bagging their first Big Top 40 number 1 with debut single 'She Looks So Perfect', Michael, Ashton, Calum and Luke sat down with Max in the Capital studios to play a quiz. Fortunately for the 5SOSFam watching live across the world, the boys got a few questions wrong and had to remove layers of clothing - we're SO good to you!
No, we don't mean a strange body part, somewhere you'd never expect him to HAVE the tattoo... On a plane at 30,000 feet!
"My adrenaline was through the roof... This was the most difficult tattoo I've ever done for sure."

Seriously, we're used to some long and crazy videos from Mother Monster, but the promo for 'G.U.Y.' was something else - and we're STILL addicted to watching the 12-minute clip on repeat!
26th March 2014, that was the very first time you'll have heard Sam Smith's phenomenally successful 'Stay With Me'. A year on you're still loving it - Sam's even bagged himself countless awards and accolades. We're NOT jealous of his career. At all. Honest...
Forget Kim K's booty, when One Direction's Niall Horan met the Queen, we were pretty sure the Internet was going to break! The cheeky Irish singer even joked about inviting her to one of their shows. We don't know about you, but seeing Queen Elizabeth II dancing to 'Best Song Ever' would make our year!
I would to thank @BritishMonarchy and of course queen Elizabeth for her invite to Buckingham palace yesterday evening pic.twitter.com/xzz5tiodv0

— Niall Horan (@NiallOfficial) March 26, 2014
We were absolutely amazed by YouTuber Mikey Bolt's vocal talents when he re-recorded Pharrell's monumentally successful hit 'Happy' with impressions of Family Guy characters. Seriously impressive stuff!
You may also like...