SIGH! The Fool Who Kissed Kim Kardashian's Bum Has Come Up With The Most PATHETIC Reason Why...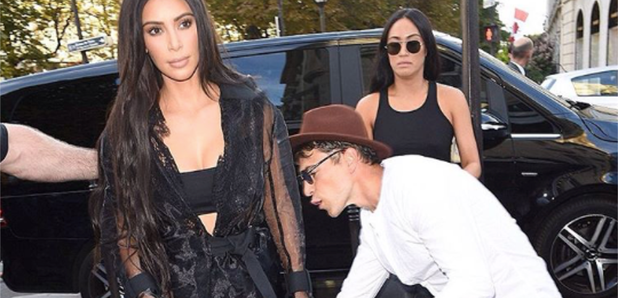 Is anyone else getting bored of his excuses? Or is it just us getting really, really, REALLY fed up with him?
Vitalii Sediuk; he's a man who has assaulted Will Smith, Madonna, Leonardo DiCaprio and Miranda Kerr. Just recently, he shockingly grabbed Gigi Hadid. (Don't worry - there was a silver lining in that; he did get an elbow to the gob.) But the weirdest part? He thinks he's justified in doing these acts!
The - ahem - "prankster" launched himself at Kim Kardashian during Paris Fashion Week and attempted to snog her bottom. There is literally no reason as to why this would be a good or right thing to do. But don't try telling Vitalii that - you won't convince him.
The man who refers to himself as a "journalist" said he did this as a protest to young girls; telling them to love their natural beauty. Wouldn't it have just been easier to, we dunno, Tweet that message? Rather than assault a celebrity minding her own business?
Sediuk went on Instagram and wrote "I was protesting Kim for using fake butt implants.
"I encourage her and the rest of Kardashian clan to popularise natural beauty among teenage girls who follow and defend them blindly."
At least he didn't seem phased at all by Kim taking legal action against him. And yes, the following Instagram post may put you off of chicken for quite some time.
You May Also Like...