Ed Sheeran Teams-Up With Chris Brown... Plus 13 MORE Unlikely Pop Star Collaborations
9 September 2015, 12:24 | Updated: 4 December 2017, 11:10
Chris Brown ft. Ed Sheeran - Loyal
03:05
After watching Ed drop a live verse on 'Loyal', check out these other times the stars have REALLY surprised us...
This past weekend Ed Sheeran of all people popped up to join RnB star Chris Brown for a performance on stage together, and we ALMOST couldn't deal with it.
The UK star not only dropped an a cappella version of 'Loyal' with Breezy but went on to sing the a full-on rap segment for the performance... and later on even had Chris join him for a round of 'Thinking Out Loud'!
Hit play on the video above to watch this unexpected pair in action... or scroll down for XX of our FAVE unlikely pop star collaborations ever!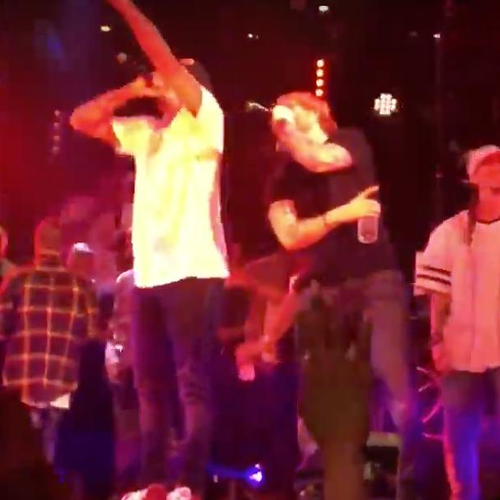 1. Lady Gaga & Tony Bennett - 'Anything Goes'
These two incredible vocalists clearly have a LOT of love for each other because not only did they team-up for a performance, they also teamed up for a WHOLE collaborative jazz album together called 'Cheek To Cheek'.
When Lady Gaga first announced her plans to work with jazz legend Tony we were a little unsure - but by the time we saw their on-stage chemistry together this pairing made total sense!
2. Rihanna & Coldplay - 'Princess Of China'
When Rihanna featured on Coldplay's hit 'Princess Of China' it was pretty much every pop fan's dream come true - the duet they never knew they wanted but that just plained worked!
Seeing them perform it together - and smash it - at the Stade Du France in 2012 was just the icing on the cake...
3. Beyonce, Ed Sheeran & Gary Clark Jr. - Stevie Wonder tribute
Ed Sheeran crops up again on our list after he got to perform live on stage with none other than Queen Bey herself - Beyonce! Yes, in February 2015 Ed looked like he couldn't believe his luck when he found himself up on the stage with Mrs. Carter for a post-Grammys tribute performance to the iconic soul singer.
Ed... you're basically our here after this one...
4. Eminem & Elton John - 'Stan'
This was the unlikely team-up to end ALL unlikely team-ups... back at the Grammy Awards 2001 when Elton John appeared as Eminem's guest vocalist for his performance of 'Stan'.
Given the controversy around Eminem's lyrics over the years building up to this performance, it was almost unthinkable that Elton would join the rap star but this just goes to show you can NEVER predict what Marshall Mathers has in store for you.
5. Rod Stewart & A$AP Rocky (& James Corden) - 'Everyday'
When a Rod Stewart sample cropped up on one of rap star A$AP Rocky's latest singles we worried for a minute we might have been hearing things!
But things took a turn for the even MORE bizarre during James Corden's 'Carpool Karaoke' with legendary crooner Rod - when A$AP himself appeared in the backseat and all three stars rocked out to the hit! We can't even deal...
6. Jason Derulo, Keith Urban & Stevie Wonder - 'Broke'
We bet Jason Derulo could NOT believe his luck when he managed to not only get country star Keith Urban to sing on a track for his new album 'Everything Is 4'... but legendary soul singer Stevie Wonder!
7. Little Mix & Flower - 'Dreamin' Together'
We've got to admit, we were kind of surprised to see Little Mix come back from months in the studio with this J-Pop duet with Japanese girl band Flower! But at least it kept fans going until the AMAZING 'Black Magic'.
8. Rihanna, Kanye & Paul McCartney - 'FourFiveSeconds'
When Rihanna made her long-awaited new song comeback fans were MORE than a little shocked that she had not one, but TWO legendary collaborators on the credits.
Having Kanye West on the bill for 'FourFiveSeconds' wasn't the CRAZIEST shock out there, but seeing Beatles legend Paul McCartney joining Rihanna for the track AND music video... we never expected that!
9. Kesha & Iggy Pop - 'Dirty Love'
Possibly one of our favourite Kesha moments ever was when she teamed up with crazy rocker legend Iggy Pop on 'Dirty Love' from her album 'Warrior'. Like two peas in a pod!
10. Justin Bieber, Skrillex & Diplo - 'Where Are U Now'
2015 saw the return of a new Biebs, including a new direction with his music - teaming up with dubstep duo Skrillex and Diplo (under their moniker of Jack U) for the undeniably catchy dancefloor anthem 'Where Are U Now'.
11. Dappy and Brian May - 'Rockstar'
Queen's Brian May and Dappy from N-Dubz got together for this aptly-named track 'Rockstar' and we're STILL left wondering quite how this came about. Any ideas?
12. Will.i.am, Jennifer Lopez & Mick Jagger - 'T.H.E. (The Hardest Ever)'
We LOVE that this happened! Will.i.am, J-Lo and Mick Jagger's voices sound amazing on this track released by Will back in 2011 - although, we've learned never to be shocked by Will.i.am and his guest stars any more!
13. Joe Jonas & Lil. Wayne - 'Just In Love'
A track that somehow managed to fly REALLY far under the radar, Nick's older brother to Joe got together with Lil. Wayne back in 2011 to fuel his solo career after the Jonas Brothers took a break. We think we LIKE this one...
You may also like...
WATCH: Sam Smith Covers 'When I Was Your Man'