#PetSongs: 10 PURRRFECT Anthems To Enjoy With Your Furry Friends...
26 June 2015, 06:13 | Updated: 4 December 2017, 11:10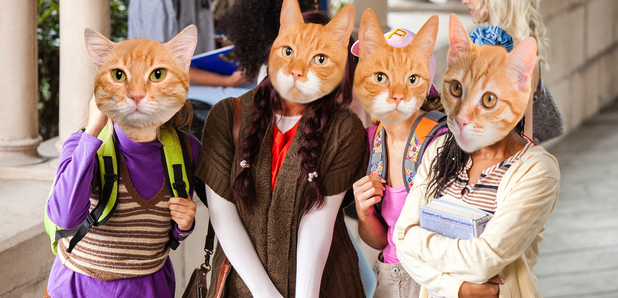 It's the MUST-HAVE playlist for all your animal needs.
It's national Bring Your Dog To Work Day today and to celebrate we're kicking off some #banter on Twitter. However, you know here at Capital we don't play by the rules which is why we thought we'd open it up to the wider animal mix and kick off the search for our favourite #PetSongs.
To start you off we've collated some of our favourite pet anthems from the Capital playlist. Think you can do better? Prove it!
1. Flo SPIDER Feat. Robin Chick - 'I Don't Like It, I Love It'
Let's kick things off with a bit of Flo, an rapper that ALL animals like getting their groove on with.
2. Mark Ronson & Bruno Mars - 'Uptown Skunk'
The biggest-selling single of 2015 so far and a MASSIVE favourite with our furry friends.
3. Litter Mix - 'Black Magic'
The Little Mix girls are back with another infectious pop classic! Expect some impressive cat moves in the litter tray when your little babies here the #purrrfect beats of 'Black Magic'.
4. Racoon 5 - 'Sugar'
Now this is a real lad anthem and rumour has it it's a huge crowd pleaser at the local racoon centre. Perfect tune to pick up the ladies.
5.
Justin TimberSNAKE - 'Sexyback'
Some tunes just get the body moving and this JT classic has the perfect beats to get those snake hips moving.
6. Wiz CATlifa - 'See You Again'
What a total tune and further proof that cats are WELL into their music. Here's a real iconic in the pet world showing exactly why he dominated the charts earlier this year.
7. Rihanna - 'We Found DOVE'
A HUGE Ri-Ri classic here for all the birds out there. The music video ruffled a few feathers with its controversial opener but fans didn't care about that, it became a MASSIVE single back in 2011.
8. Jason Derulo - 'Want You to Want Me-OW'
This former Vodafone Big Top 40 chart No.1 hit is another favourite with the UK cat population. There have been claims that the release of the track was linked to a surge in kitten creation, however none of our feline friends have yet put their paws up to confirm.
9. Tinie Tempah Feat. Jess Glynne – Not Letting GOAT
There was a time when the goat community followed the sweet sounds of Taylor Swift but that's until Tinite Tempah started disturbing London! Now the UK rapper and his latest collab star Jess Glynne have firmly secured their love.
10.
PIGGY Azalea & RABBITney Spears - 'Pretty Girls'
Talk about a pop powerhouse! Everyone loves a good babe in the city and this time around we get two hotties for the price of one. Get ready to jump!
So there you have it, the perfect soundtrack to keep your animal massive smiling. Got more suggestions for #PetSongs? Hit us up @CapitalOfficial on Twitter.
You may also like...