Geordie Gore: Once You See This Pic Of Vicky Pattison's Gruesome Foot It Can Never Be Unseen
22 August 2016, 11:08 | Updated: 4 December 2017, 11:10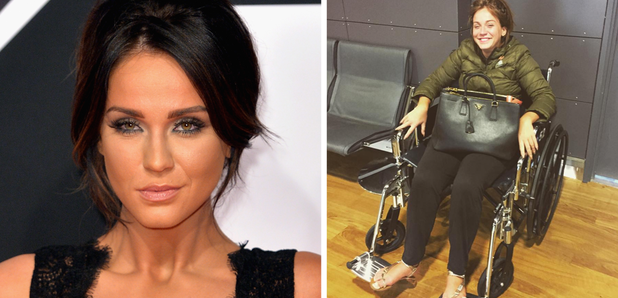 If you're squeamish, look away now...
Vicky Pattison is loved by the nation.
She was crowned 'Queen of the Jungle' in the 2015 series of 'I'm A Celebrity'.
But it seems that her latest expedition has left her in a bit of a state.
Vicky has been taking part in a charity trek across Iceland recently.
Although it seems as though it may have been a step too far for our fave Geordie star.
She posted this pic on Instagram alongside the caption, "Smiling through the pain... My feet officially gave up and without alcohol to numb anything I can't even walk anymore... Iceland 1, Vicky 0."
But what might shock you is the graphic pic that Vicky shared on Twitter.
Before you scroll down any further, just make sure you've finished eating!
And remember, we did warn you...
The toe tails continue! Now it seems as though there is a toe living inside my other toe! Like Russian nesting dolls pic.twitter.com/UO9CV6K6AU

— Vicky Pattison (@VickyPattison) August 17, 2016
When we first laid our eyes on the gruesome mage, we were all iike...
Fans were shocked by the image too...
@VickyPattison VICKY OMG

— lucy (@hilucyhere) August 17, 2016
@VickyPattison oh my good god, would you please see a doctor

— Daisy (@xdaaaisy) August 17, 2016
@12_ellie @abbieburrett @VickyPattison nah she needs a bloody new toe

— Ellie Dodd (@EllieeDoddd) August 18, 2016
@VickyPattison ouch, that looks to painful. Don't know how the bleep you continued to walk with that.

— ♫ Jenny ♫ (@_Jenny_x) August 17, 2016
@VickyPattison is that my poor eyesight or is practically half your toe missing? Looks painful mate

— Sasha Fishburn (@sashafishburn) August 17, 2016
We're guessing that Vicky is going to be off her feet for a little while with that nasty injury!
So the next time you complain about having sore feet, spare a thought for our Vicky.
You may also like...