Usain Bolt's Girlfriend Appears To Reveal She's Not OK With Those 'Cheating' Pics After All
25 August 2016, 13:37 | Updated: 4 December 2017, 11:10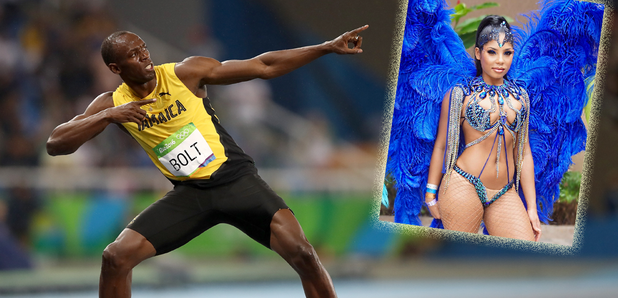 There could yet be trouble in paradise for the world's fastest man...
The Olympics were an incredible global event.
Team GB achieved their greatest medal haul in forever and once again made everyone proud.
But it was Usain Bolt who grabbed most of the headlines.
As well as winning a trio of Gold medals once again, Bolt also made the headlines for some less than favourable reasons.
He was pictured with several women in Brazil and one in particular, Jady Duarte, who shared photos of her encounter with Bolt on Whatsapp, has created a buzz.
That's because Bolt has a long time girlfriend back in Jamaica called Kasi Bennett.
Duarte told a tabloid, "I thought we had something going. But now I can see that he picks up women as quickly as he picks up gold medals."
"I felt honored that he had picked me out and we had a great time. He was really good fun. I had no idea he had a girlfriend — I didn't even recognize him in the nightclub."
#UsainBolt having a ball with 20 yr old student Jady Duarte...Lol! pic.twitter.com/Baja9ktLHM

— Wa-MaThaNgaNia (@Muhahami) August 22, 2016
Jady then seemed to intensify the whole situation by posting this provocative tweet...
I love bolt

— Jady Duarte (@JadyDuarte_) August 23, 2016
And whilst there have been reports that Kasi is being supportive of Bolt through these 'cheating' allegations, some of her actions may suggest that all isn't exactly ok.
Several Twitter users have sent Kasi messages of support and slammed Bolt's 'actions' and Kasi herself even liked the tweet below, before recently unliking it...
@usainbolt you traded your life with a #goddess @kasi__b for a one night fling with someone who will never even come close. I can't.

— Taylor (@tcantrell2989) August 23, 2016
She allegedly also liked a complimentary Instagram post of a side by side image, showing herself alongside Jady Duarte, which had the caption 'When you girl is Selfridges, and you cheat on her with Primark."
Even Usain Bolt's sister Christine Bolt-Hylton has waded in on the drama, claiming that she doesn't think anything happened between the sprinter and Jady Duarte.
She told a tabloid, "People ask for pictures with him and he is always willing to have pictures."
"I don't think anything happened between him and the Brazilian girl," she added of the snaps with Jady."
"He loves Kasi too much to jeopardise the relationship."
Since the pictures were revealed, Bolt's girlfriend Kasi has only posted this picture to her Instagram account, having previously posted several pictures of Bolt in Rio...
The comments which people have posted alongside the image are all in support of Kasi...
shell_forest7 commented "I'm rooting for you!!!!!"
_tatatavares wrote, "this woman is wonderful , the Brazilian was just a pass time! you are a DIVA , PERFECT , WONDERFUL !"
Whilst aninha.o258 simply put, "Very beautiful. You don't need Bolt."
So with the pair staying pretty silent on the whole situation, we'll have to wait and see how all this progresses.
Will Kasi stay with Bolt or will she run away as fast as she can?
You may also like...