The 14 Unluckiest Moments In Pop History
8 July 2014, 12:30 | Updated: 4 December 2017, 11:10
1. Justin Bieber vomits on stage
Poor Biebs! One minute you're treating thousands of fans in Arizona to a live version of 'Out Of Town Girl', the next your lunch decides it wants to be on stage too.
2. Beyonce's weave gets tangled in a fan.
Queen Bey is known for her fabulous shows and fabulous hair - so you'd imagine that when the two come together it would be amazing, right? Well one badly timed moment for the 'Drunk In Love' star meant that her hair became tangled in an on-stage fan, resulting in a security guard having to free her blonde locks.
3. That awkward moment with Kanye West and Taylor Swift
Winning 'Best Female Video' at the MTV VMAs should be an amazing moment for any singer, right? Well when Taylor Swift won back in 2009, her acceptance speech was cut short when Kanye West jumped on stage and stole her limelight. The 'Gold Digger' rapper took hold of Taylor's mic and proclaimed that "Beyonce had one of the best videos of all time!" - a moment that has gone down in music history!
4. Harry Styles almost misses his BRIT Award!
The One Direction heartthrob was late joining his bandmates on stage after picking up the Global Success Award at the 2014 BRITs. When asked why he was so late on stage, he replied "I was having a wee!". Unlucky Hazza!
5. Katy Perry jumps on a giant cake - doesn't end well!
Kitty Purry is known for her bright and colourful performances, so nobody was surprised when she brought a giant pink cake on stage. Unfortunately for the 'Birthday' singer, bellyflopping on to it wasn't such a great idea, especially when slippery cake on a stage floor makes it difficult to get back up!
6. Katy's flute solo doesn't go so well either!
When Katy Perry decided to show off her musical range by playing a recorder 'live' on stage, she didn't have the best of luck. After mis-timing her performance to her backing track, the 'Firework' star broke her instrument in half and cried to the crowd "So, I learned that I can't play the flute!"
7. Cheryl Cole gets a pie to the face!
You have to admit, Chezza always looks beautiful! So it comes as no surprise that some people may get a bit jealous of the 'Crazy Stupid Love' singer's beauty - some people might even want to pie her in the face! Well, one lucky boy got that chance as part of a fund-raising stunt at the Pride of Britain awards!
8. Carly Rae Jepsen proves she's no good at sport.
There's no shame in being bad at sport, but when you're forced to play baseball in front of thousands of people and a TV audience at home, there's obviously a LOT of pressure on your shoulders. So let's take a minute to pity the 'Call Me Maybe' singer's embarrassing attempt at pitching a baseball (after we've stopped laughing!)
9. Lady Gaga falls over on stage
Mother Monster is well known for putting on some of the biggest and most entertaining live shows in the world - but with such an extravagant stage full of hazards, it comes as no surprise that the 'G.U.Y' singer would eventually take a tumble! But when she fell off a piano on stage in Houston, like the professional she is, Gaga carried on the show unfazed!
10. Jason Derulo breaks his neck!
The 'Talk Dirty' star injured himself during rehearsals for his Future History world tour. Jason almost paralysed himself whilst practicing a stunt, leading him to delay the start of his live shows. Ouch!
11. Pink tries to fly... and fails!
We LOVE Pink's live shows, especially when she takes to the air and performs her trademark acrobatics above the audience. But all didn't go to plan during one show in Germany in 2010. Whilst attempting to 'take-off', the 'So What' singer ended up landing in the crowd instead of in the air. We hope she invests in a longer runway for her next tour!
12. The Vamps' Connor takes a tumble
Whilst supporting Taylor Swift on tour, Connor Ball from The Vamps took one of his band's lyrics a little too literally. Just seconds after belting out "I can barely stand", the 'Can We Dance' star walked a little too far and fell off the stage! Let's hope we don't get a repeat of that when the boys perform at the Summertime Ball at Wembley! (but get your cameras out just in case!)
13. And things don't go too well for Brad's nose either!
Whilst giving it his usual gusto and energy during a performance on stage at the British Summertime Festival, Brad got a little too carried away and bashed into bandmate James' shoulder. The nosebleed that followed resulted in a trip to A&E, but fortunately for the 'Wild Heart' singer the only real damage was a bruised ego. With three members of the band involved in embarrassing incidents, it leaves us wondering what unfortunate accident wis going to happen to Tristan?
14. Christina's tanning 'incident'
Poor Christina Aguilera! We've all been there - you've put on your fake tan and been careful to avoid streaks and white bits, but then something happens that draws attention to your attempts to look more sun-kissed. Well take a moment to feel some compassion for the 'Beautiful' singer! During Etta James' funeral, Christina was clearly a little too hot, when sweat trickled down her bare legs, streaking her fake colour. Well, at least we hope it was sweat and fake tan!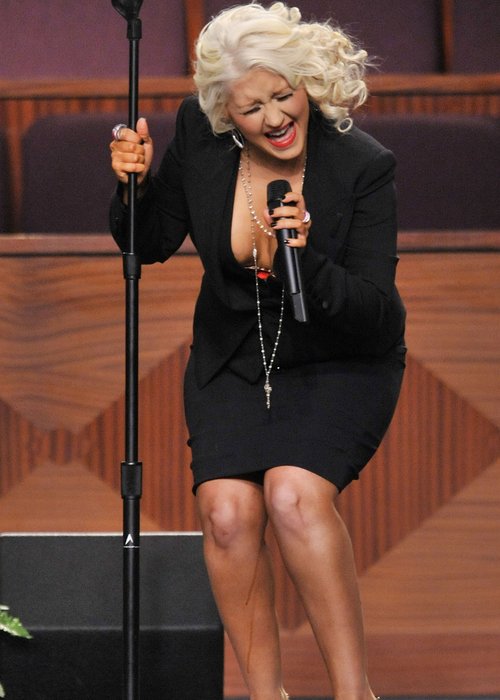 You may also like...