WATCH: Tyga Shares A Steamy Snog With Kylie Jenner In His New Video For 'Stimulated'
1 September 2015, 12:46 | Updated: 4 December 2017, 11:10
Tyga gets seriously sexy with his real-life girlfriend Kylie in his brand new music video.
Kylie Jenner and Tyga's relationship has been pretty much the worst-kept secret in the world of celeb, but the couple have gone public in his new music video.
Tyga released the steamy video for his new song 'Stimulated' which sees him and his real-life girlfriend Kylie sharing some steamy kisses on a balcony.
As well as putting the real nature of their relationship all over his video, Tyga kind of spelt it out in his lyrics too, saying "They say she's young, I should have waited. She's a big girl dog, when she's stimulated." Nice.
Tyga and Kylie's relationship came under fire after they started dating when she was just 17 and he was 25. Tyga's ex and mother of his child, Blac Chyna, took to Twitter to attack him for dating someone so young.
Now that Kylie's 18, the couple are being a lot more open about their relationship, and even cosied up together at the MTV VMAs last weekend.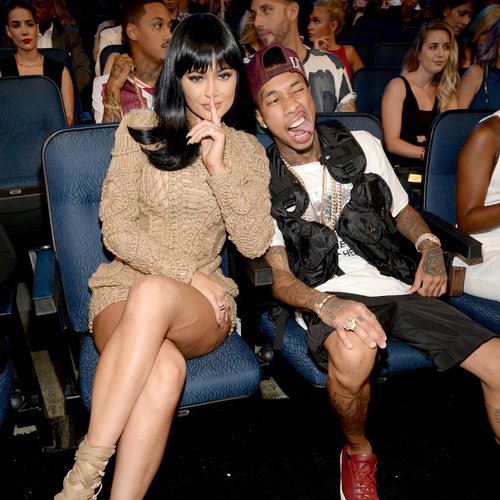 'Stimulated' is the first single from Tyga's new album 'F** What They Talkin Bout', which hits back at the way the media have treated him since news of his relationship broke.
The pair initially denied their relationship but her sister Khloe Kardashian recently said in an interview, "I think at 16 I was probably [sleeping with] someone that was in their 20s, for sure. I wouldn't say I was even dating, probably just sleeping with them.
"But again Kylie is not a normal 17-year-old. You're not gonna say, 'Hey, so what are you doing this weekend?' and have her say, 'Having a slumber party at my girlfriend's', or 'Going to prom'. That's not what Kylie does."