About 98% Of Twitter Brutally Blames Jennifer Lawrence For Chris Pratt And Anna Faris' Split
8 August 2017, 08:32 | Updated: 4 December 2017, 11:10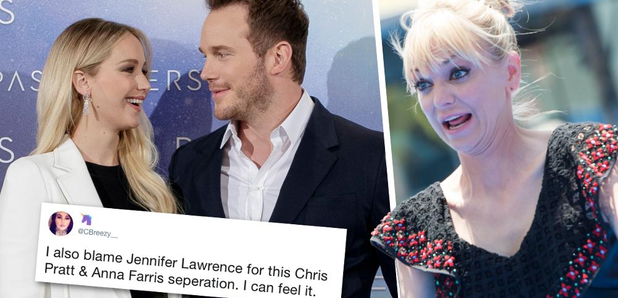 She won an Oscar for this?!
The world's been a much drearier, darker place ever since the original power couple, Chris Pratt and Anna Faris, announced they were legally separating, after the 'Guardians of the Galaxy' star took to Facebook to break the news.
Since then, tonnes of fans of the duo have taken to Twitter to accuse Jennifer Lawrence, Pratt's co-star in the 2016 sci-fi 'Passengers', for breaking the two apart.
> Chris Pratt Got Body Shamed On Instagram & Now He's Hit Back With The Funniest Response
The Oscar-winning 26-year-old appeared alongside Chris Pratt last year, and many fans were quick to pick up on the fact that the duo seemed to be flirting during press events, like the film's premiere.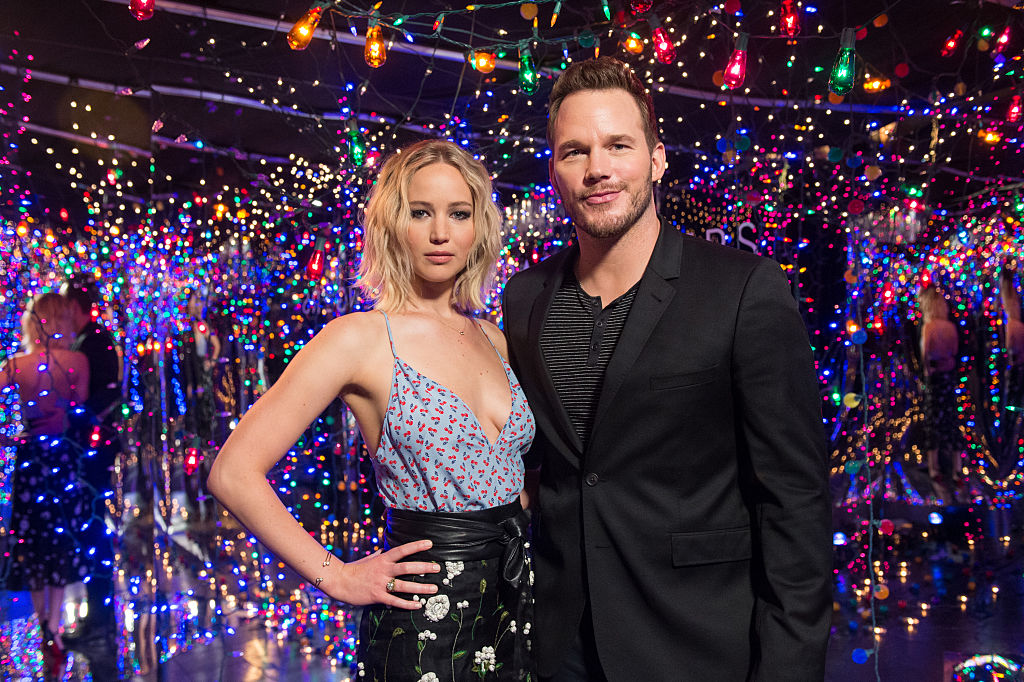 Pic: Getty
Others believed that this 'flirting' led to Chris leaving Anna for the 'Silver Linings Playbook' actress, saying "I also blame Jennifer Lawrence for this Chris Pratt & Anna Farris seperation. I can feel it," as well as other spiteful comments.
If he starts dating Jennifer Lawrence, I SWEAR.... I'll boycott Chris Pratt!!!

— lindsay samp (@TheSamp8) August 8, 2017
if chris pratt gets together with jennifer lawrence .. i shall rain my wrath upon her with the fury of one thousand suns >:(

— don (@awfuldon) August 8, 2017
Sorry to spill tea everywhere, but Chris Pratt is definitely about to go public with Jennifer Lawrence, ya? pic.twitter.com/UTBY3vT33r

— Nathan hner (@TheFinalMan) August 8, 2017
Chris Pratt is gonna be dating Jennifer Lawrence in about 5 months we all know it

— $p£int€r (@BRETTxCOOPER) August 8, 2017
In agreement that Jennifer Lawrence is the reason Chris Pratt and Anna Faris are separating. Given that whole Passengers situation... yeah.

— Jelly (@Jellypuffs) August 8, 2017
These rumours have been circulating since the filming of 'Passengers', which Anna even mentioned in her podcast. Whilst speaking to Isla Fisher, she wrote "It made me feel incredibly insecure.
"I just remember feeling so hurt in a way that bothered me, because I didn't want to think of myself as somebody who could be affected by tabloid s***," continued Anna.
> Still Feeling Heartbroken? Our App Will Help You Ease The Pain. It's Such A Bae.
Whether or not you believe the rumours that Chris and J-Law are, or ever were a thing, just try telling that to Chris' emotional message, saying "We still have love for each other, will always cherish our time together and continue to have the deepest respect for one another."
From Chris Pratt, a man who probably doesn't crush on J-Law, to Roman Kemp, a man who definitely, DEFINITELY does...