Riverdale Series 3 Spoiler: Fans Enraged As Archie Andrews Is Sent To Jail In Season Premier
11 October 2018, 15:58 | Updated: 11 October 2018, 16:05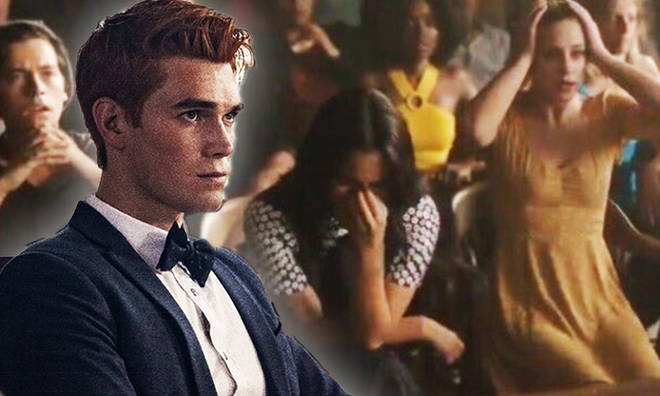 SPOILERS: Riverdale is back for it's third season and picks up where it left off, and fans are up in arms at how episode has gone down, with Archie Adams being marched off to jail, leaving everyone asking WTF is going to happen next?!
Archie, Jughead, Betty and co. are finally back on our Netflix screens after what feels like an eternity, as the first episode of series 3 has dropped, and it's safe to say fans are pretty shocked at the huge curveball that's gone down in the season premier.
Riverdale Series 3: Everything You Need To Know About Jughead's Mum & Sister
We saw Archie arrested in front of the whole school at the end of series 2, but most didn't actually think he'd be sent off to the slammer, as viewers know he's being framed by Hiram Lodge.
Naturally, fans quickly took to Twitter to ask just WTF they saw happen, and they definitely aren't happy about it.
Archie takes a plea deal that says he can do his time in a juvenile jail if he pleads guilty- which he agrees to, shocking the both the show's characters as well as Riverdale audiences around the globe, as everyone knows he's innocent.
However, we've got our suspicions that all is not yet lost, as Betty Cooper is currently interning at the law firm McCoy and Andrews to work on Archie's case, which is getting us all kinds of excited that she's about to have her very own Elle Woods moment in court to get her friend off.
The third series promises to be the darkest yet, and 'Labour Day' has stayed true to this, and we genuinely can't wait a whole week for next week's episode to find out what life behind bars is like for Archie.
If, like us, you're completely obsessed with the Netflix series, you'll be pretty excited to hear that the show may be getting a spin-off, according to Show-runner Roberto Aguirre-Sacasa, who told 'Collider': "We have an idea that in the very preliminary, early stages, which hopefully you guys will be hearing about, in the coming weeks."
GASP EMOJI.
>Download Our Brand New App For All The Latest Riverdale News