Lili Reinhart Finally 'Reveals' Cole Sprouse Relationship With Sweet Instagram Post
6 August 2018, 17:31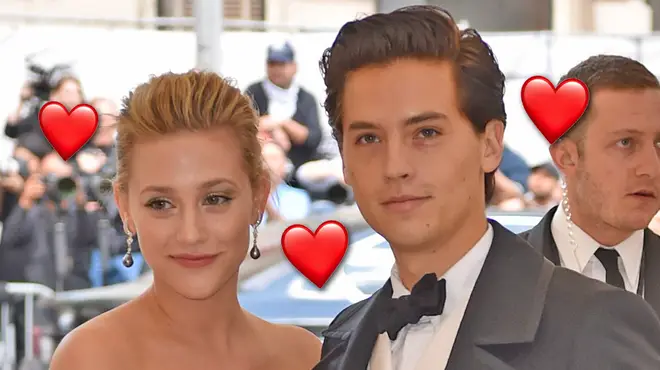 Riverdale stars Lili Reinhart and Cole Sprouse have faced dating rumours for ages, but they've finally revealed their 'love' on Instagram.
As two of Riverdale's most popular stars, Lili Reinhart and Cole Sprouse have quickly risen to superstar status and their 'are they/aren't they' relationship has had everyone talking.
But on Cole's birthday, Lili posted a picture on Instagram alongside a sweet caption in which she referred to him as her 'love' and fans are convinced that's the dating proof they've been waiting for.
> Riverdale Star Madelaine Petsch Talks About Season 3 And Life Before The Show
Taking to Instagram, Lili wrote, 'It seems as if the world would still be a stranger to me, if not for you. I'm so thankful that our paths intertwined to form this beautiful adventure~ Happy birthday, my love.'
Until now the pair have remained tight-lipped on their rumoured relationship and this is the first time either of them have used the L word in public.
Lili's character Betty and Cole's character Jughead are in a relationship on Riverdale and their closeness on set has appeared to spark an off-screen romance too.
Comments underneath Lili's Instagram post ranged from 'my heart is melting' to 'Yes soulmates found each other' and most fans appeared convinced the couple have now gone public.
Even though Lili has referred to Cole as her 'love', she could be using the term in a friendship kinda way, so it's STILL not the definitive proof that many fans will have been hoping for, but it certainly is a super sweet birthday post!
Having remained very private on his socal life, Cole recently took to his own Instagram to reveal that he'll be posting more personal photos in the near future.
Taking to Instagram, Cole wrote, 'I've decided to start uploading some of my more personal photographs on this Instagram. If you've ever spent a bit of time with me, you'll know I take my privacy quite seriously, much of that paranoia influenced by my youth.'
He went on to add, 'I understand social media will always carry a bit of a curated superficiality, but I have so many sentimental photos that, like a collector, I've kept in the original packaging for far too long. I'm hoping some of the photos I'll be posting from here on out will feel a bit more...honest, as they do to me. Naturally, I'll still be weaving my commercial and editorial work within this account, but why don't we break it up a little? Keep up'.
Will we get any photos of Cole and Lili though, that's the question!
> Download Our Free App For All The Latest Riverdale News!