Netflix Has Released A Five Hour Long Video of Noah Centineo In A Hot Tub
28 December 2018, 10:08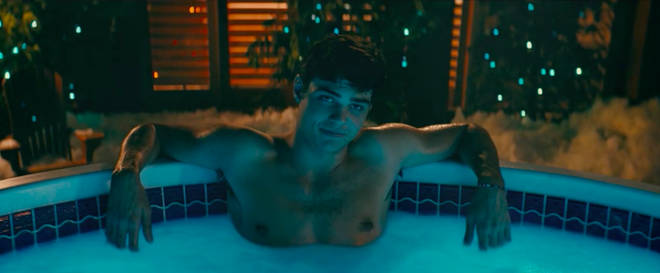 Everyone stop what you're doing immediately and watch this video.
This summer, there was only one film everyone was talking about: the Netflix rom-com To All The Boys I've Loved Before - more specifically, Noah Centineo who starred as Peter Kavinsky.
Now, Netflix has reignited our love for the film (and Noah) by releasing a five-hour long video of *that* hot tub scene.
> Noah Centineo's Revealed How He Got His Face Scar
If you're unfamiliar with the film, it's based on a novel of the same name, and tells the story of Lara Jean (Lana Condor) who gets herself into a bit of a pickle after her secret love letters get mailed to the 5 guys she's been in love with.
Peter Kavinsky is one of these guys, and he did such a good job in his role that pretty much everyone who saw the film fell head-over-heels for him.
But back to the video: it's FIVE WHOLE HOURS of shirtless Noah Centineo in a steamy hot tub. The video begins with Lara Jean walking out to the hot tub, and then it stops on a shot of Peter Kavinsky staring so intensely into the camera that one user commented 'he is staring at my soul'. This goes on for five hours. The most intense staring contest of your life.
Viewers have had mixed feelings about this video. While some people are just happy to see Noah Centineo in a hot tub, some have said the video is a little creepy. Comments on the video include:
"I thought I needed help, apparently Netlfix needs it more than I do lol"
"Noah is attractive and all but WTF this is so creepy and weird"
"Ok Netflix, if you are okay blink once. If not, twice."
> Grab Our App For All Things Noah Centineo!
Whether you find it creepy or incredible, you can't deny Noah looks great. But now we're a little worried that when Netflix said the film would get a sequel that this is what they meant...