Former TOWIE Star Kirk Norcross Is Now A Tarmacer Posting Daily Inspirational Quotes
12 January 2018, 17:42 | Updated: 12 January 2018, 17:45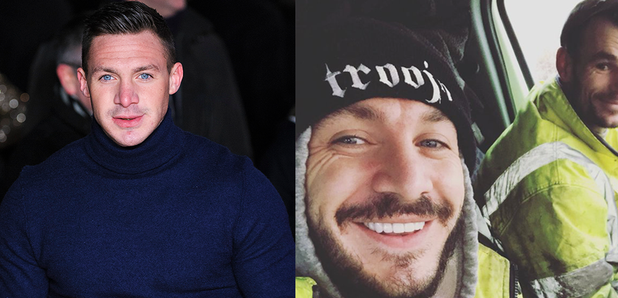 He's doing his thing.
Former TOWIE star Kirk Norcross has gone and done a full 360 and gone from reality star to tarmacer and we're loving his positive outlook and his cheesy AF Twitter posts.
The 29-year-old who starred on the first ever series of TOWIE has been keeping his 1 million followers on Twitter up to date with what he's been up to these days and it's miles away from the glitz, glam and drama of his Essex days.
5 minuet tea break then back to work! Hope everyone is enjoying the day so far pic.twitter.com/wITcLwkfUS

— Kirk Norcross (@kirk_official) January 10, 2018
His Twitter consists of pics on his way to work or at work, selfies with his son, pictures of some questionable meals "cooked" after "14 hour shifts" and some really cringe-worthy love notes from his partner Danielle buried in his packed lunch.
We're pretty sure she gets her content from Google.
Been so busy today only just stopping for lunch now but finding this note in my lunch from my Mrs has made my day much better pic.twitter.com/uvnd0C4oJG

— Kirk Norcross (@kirk_official) January 11, 2018
And with Kirk having a millionaire dad, some people were obviously curious to know why he was now doing such a normal job miles away from his past and not chugging out #spon posts all over Insta like other reality TV stars.
When one Twitter user asked: "How come you're out doing tarmac when your old mans minted" we couldn't fault his reply.
My dad got minted by hardwork so I've decided to take a leaf out of his book

— Kirk Norcross (@kirk_official) January 10, 2018
Keep doing you mate.