Hot Off The Back Of 'Lullaby', Tori Kelly's Recorded A Duet With Ed Sheeran!
25 September 2014, 11:18 | Updated: 4 December 2017, 11:10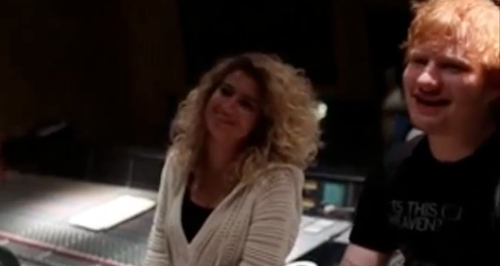 Tori Kelly started out as a Youtube star but she's going stellar and working with some of the biggest names in pop.
She's only just released the incredible 'Lullaby' with Professor Green, but Tori Kelly has revealed that she has some other big name duets under her belt.
Well, it doesn't get much bigger than Ed 'number one in 65 countries at the same time' Sheeran, does it?!
Tori revealed the colab to MTV News, saying, "Ed Sheeran was amazing to work with, we wrote a duet together, so hopefully people get to hear that soon."
"I'm hoping that it ends up on my album. We've been kind of waiting for the right place for that song because it feels so special."
And Ed is not the only HUGE pop icon Tori has been working with – she's also been in the studio with Pharrell Williams.
She said, "Pharrell and I had a few sessions together and getting to work with him was a dream come true. I have been a fan of his forever, since the N.E.R.D stuff so that was really, really cool. He apparently has been a fan of mine as well, since the Youtube cover days, so that's really cool."
And not forgetting her current musical partner, Professor Green, who Tori had only great things to say about.
She explained, "I think the biggest thing is I've been learning a lot from him, like in interviews and stuff. He's a pro - no pun intended - but he really is good at what he does and he's been doing it for a while, so I like learning from him and watching him do his thing."
'Lullaby' by Professor Green featuring Tori Kelly is available to download now.
You May Also Like…