Tom Daley & Dustin Lance Black Confirm They Are Having A Baby Boy Amid Surrogacy Backlash
6 March 2018, 10:22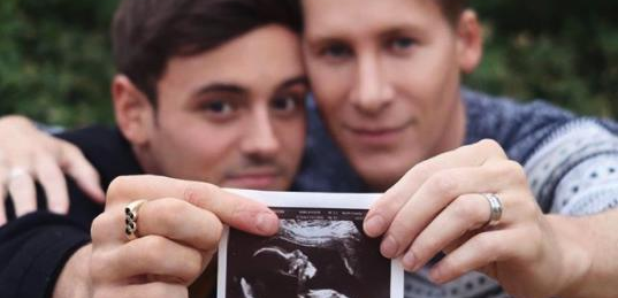 The couple announced they were expecting their first child on Valentine's Day.
Following on from the Valentine's Day announcement that they were expecting their first child together, Tom Daley and Dustin Lance Black have confirmed the gender of their baby... the couple are expecting a boy!
LINK
The couple made the announcement on Valentine's Day and shared the happy news and scan picture with their followers.
Tom, 23, and 43-year-old Dustin got married last year after getting engaged in in 2015 and are ready to expand their family, telling fans, "A very happy #ValentinesDay from ours to yours."
However, opening up about the surrogacy on the Happy Place podcast, Tom revealed that going public with the news hasn't been all plain sailing for the couple.
Tom revealed, "'We're going to have a little boy! With Kim Kardashian West, people felt sorry she's not able to have to have a child because of health reasons – 'How lovely it is that a surrogate has been willing to do that!'
"But for every other gay couple that is not able to have a child, but desperately would love to bring up a child like any heterosexual couple, we have been treated quite differently."
Tom told OUT magazine in 2016 that it was pretty much love at first sight when he met Dustin, explaining, "Quite honestly, we talked about marriage within the first two weeks after seeing each other the first time in LA."
Lance also added, "We were so busy making all these plans - we both wanted to have children; we both wanted to build a home of our own someday. I draw, so I was sketching little plans for houses on cliffs overlooking oceans, while Tom watched over my shoulder - it was a very grown-up version of playing house.
"Marriage is the foundation to all of these other big plans we have. So we knew we were going to get engaged—it was just a matter of when, and who does it."
Congratulations guys, we can't wait to see baby Daley-Black!