This Guy's Tinder Profile Is A Full On PowerPoint Presentation & He's Our New Hero
19 February 2018, 16:53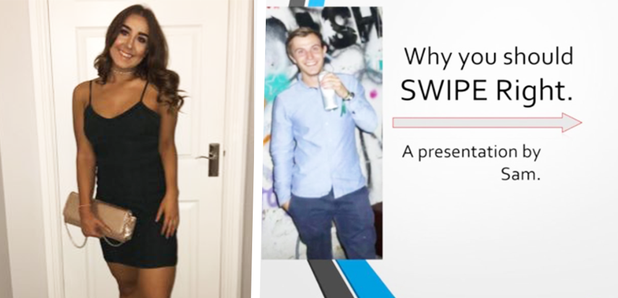 Give this guy all the awards.
Let's be honest, the dating game is pretty hard these days. In the age of social media and with horrible trends like ghosting and catfishing, the dating game can be tough.
Yes, dating apps like Tinder are meant to make it easier to meet people but all that swiping left and right can get pretty boring.
For anyone that's not really familiar with Tinder, the premise of the app is for you to swipe left if you're not interested and right if you like what you see. If you and someone else both swipe right for each other then it's a match and you can both start talking.
With the number of options on Tinder, one person who is really not trying to be forgotten is 21-year-old Sam who made his profile a full on PowerPoint presentation.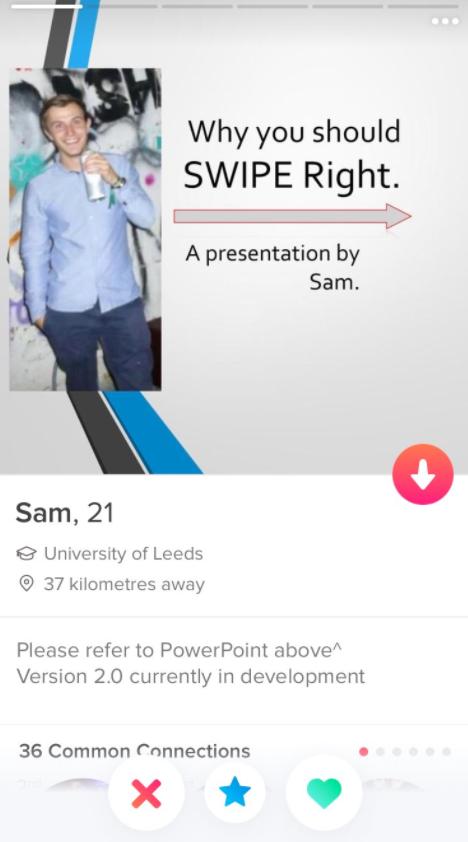 Picture: Twitter
What a hero.
Sharing Sam's amazing profile, Twitter user Gracie Barrow wrote: "A genuine 10/10 effort from this lad lmaooo I'm crying."
A genuine 10/10 effort from this lad lmaooo I'm crying pic.twitter.com/7wjUJk3HF0

— Gracie Barrow (@GracieBarrow1) February 17, 2018
And judging from Sam's attention to detail and sense of humour, he sounds like a catch. With qualities like "generous when drunk", "owns a Netflix account" and "loves petting dogs", he is definitely on to a good start.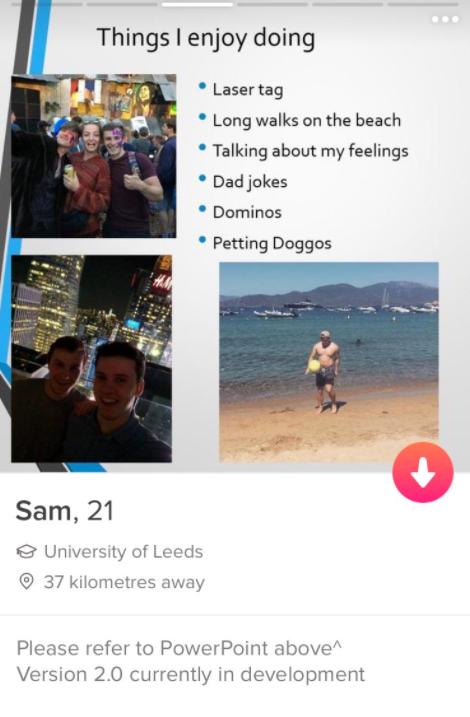 Picture: Twitter
What we all want to know is did Gracie swipe right? Because this would make a brilliant 21st century love-story, just saying.
If you're still not convinced about this guy's pretty keen approach then why not try some of Jason Derulo's tips...