From Justin Bieber To Beyonce - The Stars Celebrate Thanksgiving In Style
28 November 2014, 11:03 | Updated: 4 December 2017, 11:10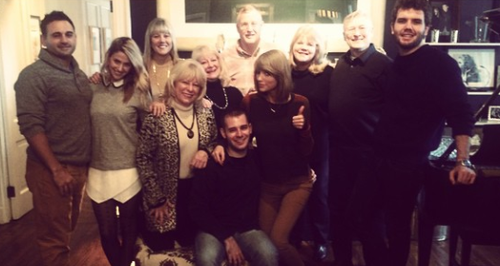 Thanksgiving is a pretty big deal in the USA - and these stars have gone all out for the holiday season!
Thanksgiving is basically the second biggest festive holiday in the American calendar - and the celebs don't celebrate it by halves! Everyone from the Kardashians to Miley Cyrus went all out to celebrate - and some UK stars even got into the spirit too.
Our favourite posts from the day were:
Justin Bieber posted this adorable snap of a snowman he had built with his little little sister to celebrate the holiday. Awww!
Made a snowman with this little cutie. Make memories with the ones you love! #HappyThanksgiving pic.twitter.com/xIz1PAUarK

— Justin Bieber (@justinbieber) November 27, 2014
Miley Cyrus celebrated Thanksgiving at home with her family, and posted this cute snap of her and her sister.
Beyonce posted a handwritten note about giving thanks every day.
Even Harry Styles got involved in the holiday.
Happy Thanksgiving everyone .x

— Harry Styles. (@Harry_Styles) November 27, 2014
Taylor Swift posted a throwback photo from Thanksgiving in 2009 and her family gathering this year.
Lindsay Lohan nearly lost her Thanksgiving turkey to the dog…
Liam Payne showed his thanks for all of One Direction's fans
Happy thanks giving everyone so much to be thankful for today especially you guys x

— liam (@Real_Liam_Payne) November 28, 2014
Khloe Kardashian put on one heck of a spread for the rest of the Kardashian klan.
Connor Ball from The Vamps enjoyed the Macy's Thanksgiving Day Parade
Macys Parade was awesome. Frozen nipples but nevertheless awesome. This is also the biggest balloon I've ever seen pic.twitter.com/Ert9HVrWlE

— Connor Ball (@TheVampsCon) November 27, 2014
You May Also Like…