This Video Of Taylor Lautner Flashing His Abs & Getting Soaked Will Make Your Thursday 100% Better
6 October 2016, 14:32 | Updated: 4 December 2017, 11:10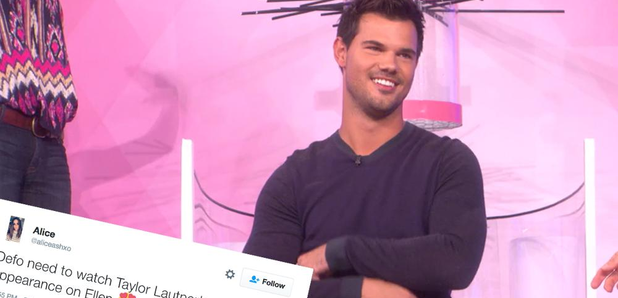 Taylor Lautner fans...assemble!
Whether you're an old skool Twilight fan or have recently fallen in love with the American actor on Scream Queens, everyone loves a bit of Taylor Lautner.
Fans have become particularly fixated on his seriously solid abs and it seems that Ellen DeGeneres is also a big fan of his famous six pack.
Taylor was on Ellen's show to promote the latest series of Scream Queens and took part in a game of 'Oops! My Water Broke' which raises money for charity.
A pretty excited audience member was brought in to compete against Ellen in the game, which ultimately ends up in Taylor getting drenched.
Ahead of the game starting, Ellen said to Taylor, "You should take your shirt off", before Taylor seemingly obliged, beginning to lift up his jumper.
We won't spoil the ending for you, so just check out the video in full below.
Whilst he was there, Taylor did actually chat about Scream Queens and revealed that the writers literally don't tell them anything!
He said, "When we get a new script, we all go into our trailers during lunch and just read it as fast as possible. First thing, you go to the end of the episode and see who dies. Hopefully it's not you."
We're pretty sure fans enjoyed this episode of Ellen...
So i just watched Taylor Lautner on Ellen and OMG I STILL HAVE A CRUSH ON HIM

— flowergirl (@aisyahnoraini) October 6, 2016
My Grammie got mad that Taylor Lautner didnt take his shirt off on Ellen

— (@itsme_holli) October 5, 2016
Seeing Taylor Lautner on Ellen is bringing back all the feels from high school

— Alexis Nedanis (@alexisnedanis) October 5, 2016
You may also like...