'Stranger Things' Star Charlie Heaton's Secret Love Child Is Revealed As He's Banned From The U.S
31 October 2017, 16:17 | Updated: 4 December 2017, 11:10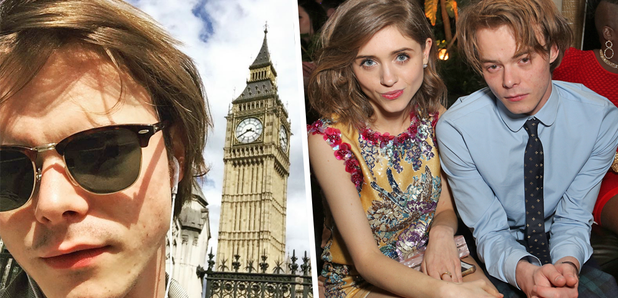 The British actor has been sent back to the UK...
The excitement around the launch of 'Stranger Things' season 2 has been as huge as you'd imagine, but for Charlie Heaton, who plays Jonathan Byers, it's been a bit of a difficult time recently.
Firstly he was stopped at the airport in Los Angeles after an illegal substance was found amongst his personal belongings and then he was sent back to the UK.
> Stranger Things Is Getting A Monster Like Harry Potter's Voldemort & We Must Protect Eleven At All Costs
Now it's been revealed that the actor has a secret love child with his ex girlfriend, who he split with 3 years ago.
Charlie's three year old son lives with his ex Akiko Matsuura, who is part of the band The Big Pink. Due to filming commitments in America, where Jonathan films 'Stranger Things', he has rarely been able to spend time with his young son.
A source told The Sun, "Charlie became a dad when he was just 20. He met Akiko when he was just a teen and fell head over heels in love. They're no longer together but they have an amicable relationship for the boy's sake."
"Right now Charlie's career is his priority but he hopes to see more of his son once filming commitments calm down."
The news will come as a surprise to Charlie's one million followers on Instagram and many people took to Twitter to share their reaction to the news...
me after i found out charlie heaton got banned from the us and has a secret child pic.twitter.com/uosuqHoBuy

— anna (@ntaliadyers) October 30, 2017
wAIT CHARLIE HEATON HAS A 3 YEAR OLD CHILD IM DEALDJSNSND

— leigha but spooky (@grazersboyz) October 29, 2017
CHARLIE HEATON HAS A 3 YEAR OLD CHILD WHAT THE pic.twitter.com/6sm1o5j6Dh

— natalia,, spoilers (@theatricalphan) October 29, 2017
charlie heaton having a secret child is pretty unusual but STRANGER THINGS have happened

— ellie (@spikejonzes) October 29, 2017
Charlie wasn't able to attend the 'Stranger Things' season 2 premiere after being sent back to the UK after small traces of an illegal drug were found amongst his possessions.
At the time, the U.S Customs and Border Patrol told Us Weekly, "CBP officers treat all international travelers with integrity, respect and professionalism while keeping the highest standards of security."
> Download Our New App For Loads More 'Stranger Things' News!
Whilst you're here, see if you can beat Lucas and Will in our super hard 'Stranger Things' quiz...