Everyone's Doing The 'Straight Arm Challenge' & It's One Of The Dumbest Things We've Seen This Year
21 December 2017, 16:45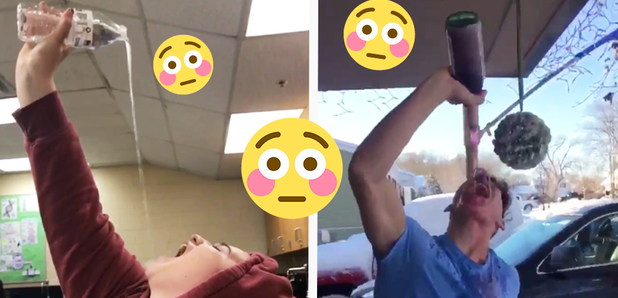 Clearly, most of these people don't know what 'straight arm' means.
Year 2017 is slowing packing its bags but one thing that's not following suit by the looks of things are the sometimes very ridiculous viral challenges each year brings.
We've already seen the backs of the salt and ice challenge, the chili challenge and the Kylie lip challenge, and now the good old people of the world wide web have started a new one, cue drum roll please,…the straight arm challenge.
If you're wondering WTF?! We'll explain.
This challenge see's people stretch one arm straight up in the air, put their head back as they try and pour a drink in their mouth.
Except a few crazy people have tried this same thing with chilli. Or milk. Do yourself a favour and please don't try this at home.
Here are some of the best ones we've seen:
*finals week*, only in biology #straightarmchallenge pic.twitter.com/q3X05lXiIt

— kaitlyn i guess (@ShKaitlynnn) December 18, 2017
This is what happens when you ask your dad to do the straight arm challenge with you... #StraightArmChallenge pic.twitter.com/YHMK6Bu9OY

— Shanaye Nordic (@ShanayeN) December 14, 2017
What's the #StraightArmChallenge pic.twitter.com/xjMVqX0gLI

— Oscar (@OscarTraan) December 12, 2017
Let's goooo #StraightArmChallenge pic.twitter.com/6x0AYsQUFR

— Ethan (@EthanJajjo) December 14, 2017
Before you go, watch John Boyega and Sonny Jay go head to head in this hilarious interview...