This Stormi Webster Theory May Prove Kylie Jenner's Outsmarted Us All
9 February 2018, 15:39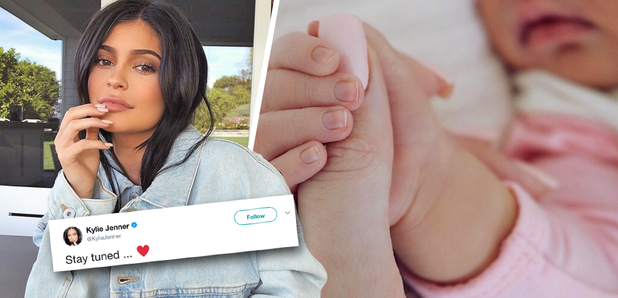 How would you feel if we told you that Kylie jenner's daughter has name that menas so much more than you first thought?
Now that Kylie Jenner has give birth to daughter Stormi, all the 'is she/isn't she?' pregnancy theories has been forgotten and the celebrity world feels semi back to normal.
However it turns out that fans are still coming up with new theories about Kylie and her newborn daughter because of one very good reason - her name.
> Never Seen Before Pictures From Kylie Jenner's Pregnancy That You Need To See
Ahead of the announcement, many people thought Ky and Travis would name their daughter Butterfly because they have matching butterfly tattoos, Travis' album being called 'Butterfly Effect' and a few other hints over the past few months.
But what if we told you that Stormi is actually a butterfly reference but no one actually realised - until now?
Some fans are claiming that the couple named their daughter Stormi as a nod to the butterfly effect, which suggests that a butterfly flapping its wings in Mexico can cause a storm in China.
It's a hugely popular scientific theory and one that many people are now suggesting Kylie and Travis named their daughter after.
Kylie's baby might not be named after a butterfly but what if she's named after the Butterfly Effect?
"The Butterfly Effect: This effect grants the power to cause a hurricane in China to a butterfly flapping its wings in New Mexico." Butterfly. Hurricane. Storm. Stormi.

— Hailey Carl (@haileycarl) February 7, 2018
ok i didnt like the name stormi but then i saw the thing about how the butterfly effect causes a storm and wow that actually makes sense

— maya luckett (@mayanluck) February 7, 2018
Someone finally connected the name Stormi to the butterfly effect.

— Gisy (@DeifyingGravity) February 9, 2018
Stormi = the effect. #kyliejennerbaby pic.twitter.com/heDe34f75L

— natasha ♡ alexia† (@tashatootrill) February 7, 2018
So has Kylie actually given her daughter a name with one of the smartest hidden meanings we've ever seen or is it just a happy coincidence?
We'll let you decide for yourselves.
> Download Our Fancy New App For All The Latest Kylie & Stormi News!
Whilst you're here, check out all the flowers Kylie got sent after she gave birth...