Stephen Bear Hits Back After Fans Blamed Him For The Death Of His Puppy
21 May 2018, 15:17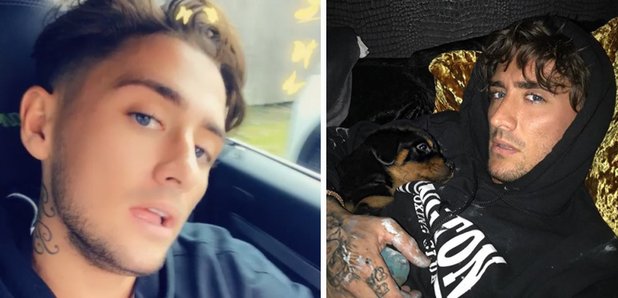 The reality star explained why the pup got ill.
After the shocking news that Stephen Bear's new puppy had died in its sleep, some fans hit out at the reality star accusing him of being responsible for the dog's untimely death – but he's hit back to deny it on Instagram.
Geordie Shore's Chloe Ferry Surgery Timeline: Before And After Pictures Revealed
After one fan posted a lengthy statement accusing Bear of being responsible for the puppy getting ill by taking it outside before its vaccines and letting it run around after an operation on its leg – which later ended up getting amputated – it got over 19,000 likes, and he has finally spoken out to deny the claims.
Bear posted a long statement and series of videos on his Instagram explaining, "My dog fell really ill, unfortunately it couldn't eat its food, it got put on a glucose drip and got fed through its paw and when they took the drip out the paw got infected, and when they bandaged it up it was too tight and it lost circulation and its paw was infected.
(18+ contains swearing)
"I went to three different vets and got three different opinions and it turns out his arm had to be amputated or he be put down, so I paid over £2000 to have his leg amputated and obviously to keep him because I loved him. I don't put animals down, I'm not cruel to animals, I love them and it upsets me that people think that I'd do my dog any harm.
"So after all that trauma he survived and I was so, so happy. A few days passed and he couldn't walk properly on his other paw, he started walking on his elbow and people are messaging me saying, 'How can you let your dog run around after an operation?'
"Just so you know, the vets advise your dog to run around so its joints don't seize up and to keep their body moving. Second of all, your dog is allowed out in the garden, I was told by the vet, so it can go for a wee or poo and it won't catch nothing.
"It's fine. It's not allowed out the front for walks, but in your back garden it's fine. Unfortunately I woke up, went downstairs and found my dog dead in its blanket, that's what happened and no one sees me crying for two, three days on end."
Download Our Fabulous New App For All The Latest Celeb News