Stephanie Davis Worryingly Rushed To Hospital Again Following Shock Arrest For GBH
4 July 2017, 10:46 | Updated: 4 December 2017, 11:10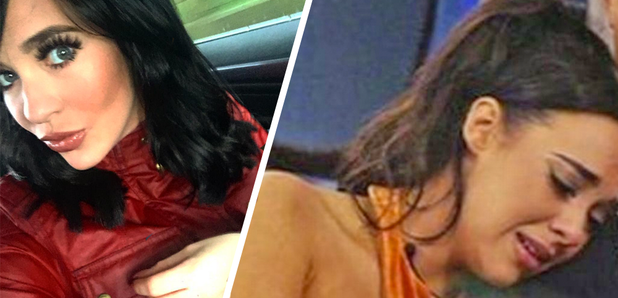 The 24 year old has been taken to hospital shortly after she was arrested for reportedly assaulting boyfriend Jeremy McConnell.
After the news broke yesterday that actress Stephanie Davis had been arrested for GBH, everyone was shocked. Her relationship with on-off boyfriend Jeremy McConnell had been up and down, but everything seems to have escalated to a dangerous point recently.
Now, following her arrest for allegedly assaulting Jeremy, Steph has been rushed to hospital for unknown reasons. Many people are speculating that it could be due to potential injuries she sustained during the assault, but others are claiming it may be stress related.
> Jeremy McConnell's Forced To Release A Statement After Stephanie Davis' VERY Honest Tweet
Stephanie was taken to hospital a few weeks ago with what was reported to be stress related issues, although further details were few and far between.
A statement from Scotland Yard read, "Police in Enfield were called to a hotel in The Ridgeway, EN2 at 11pm on Sunday, 2 July following reports of an assault. Officers attended and arrested a 24-year-old woman on suspicion of GBH. She has been taken to a North London police station for questioning. She was subsequently taken to hospital after becoming unwell where she remains at this time. Her condition is not believed to be serious."
Earlier this year Jeremy was arrested for what was reportedly an alleged assault, with many people thinking it would signal the end of his relationship with Steph. But after entering rehab and claiming he wants to sort his life out, the pair seemed to rekindle their romance.
But a couple of days ago Steph was arrested for GBH after allegedly attacking Jeremy during a late night argument at a North London hotel.
Accoring to Mirror Online, police have confirmed that Steph was arrested at the hotel and taken into custody where she remains. Steph has been working on Big Brother spin off show BBBOTS and it's thougt the pair were staying in the hotel in North London following her appearance on the show.
Reports have suggested that the couple's six month old son Caben-Albi was not at the hotel during the time of the alleged assault and was elsewhere.
Roger Osborn, who was in the pub at the time the argument began, told MailOnline, "I got here at about 9pm and they were already here and they had had plenty of drink. It looked like he was bullying her and she was shouting at him as well."
"At one point he had a go at us and started swearing at some of the other customers. We didn't get involved. We just wanted to come down to our local and have a drink and we didn't want any trouble. He was being aggressive but she was giving it back as well."
"They were both pretty drunk and they were as bad as each other. Then he left and it wasn't much longer until closing time and she left. He was being a bully and it was getting nasty, but she was shouting back at him as well."
This comes after Jeremy began drinking again following his rehab stint and was spotted sleeping on a park bench. Speaking about his drinking and behaviour recently, Jeremy said, "It was totally my fault and there are no excuses for what I did. I relapsed. When I pick up a drink or put up a tweet it's self-sabotage, it's self-harming. When I sense fear I tend to strike out instead of being able to deal with things."
"I'm very insecure. I'm scared of people leaving me. If I felt like Steph was going to leave me I would do something out of anger, like in the past. There's no excuse, but a lot of my behaviour is irrational and I am working hard to change that."