If Starbucks Spell Your Name Wrong It Might Not Be The 'Accident' It Appears & Here's Why
29 November 2017, 10:44 | Updated: 4 December 2017, 11:10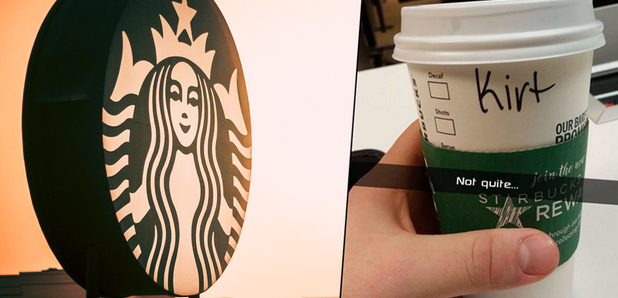 You mean they've been playing us this whole time!?
One of the best things about getting coffee from a coffee shop is having your name written on the cup.
We know it should be the coffee, but let's be honest, we all love having a bit of fun and giving a fake name every now and again!
But even if you do give your real name, there's a very high chance that the barista will actually misspell it, even if your name is Paul.
Although it seems there might be a sneaky reason as to why this happens and tbh, it really does work.
Picture: iStock
People have begun to think that Starbucks' baristas are in fact spelling your name incorrectly in the hope that you'll share the hilarious mishap on social media, giving the company some free marketing as you share it with all your pals.
Pretty smart right!?
The thing is though, it actually does work.
Just look at these posts from people whose names were terribly misspelled, or were in some cases actually renamed...
Really, #starbucks? #misspelled #spelledwrong #theydoitonpurpose pic.twitter.com/78j9Kud4N3

— Leslie (@Leslie_Bennett6) December 2, 2016
talking about ur name misspelled on starbucks cups is pretty basic but u really have to TRY to spell "Samantha" like this pic.twitter.com/G293BwT9Vt

— V (@v1nnys) December 5, 2016
i didn't think people really had their names misspelled at starbucks that much til i started going to starbucks regularly pic.twitter.com/qNNCYwqIJ7

— ˗ˏˋjen (@liviablackthrns) December 11, 2016
when @Starbucks misspelled your name smfh pic.twitter.com/rq32TgWl3H

— jenny (@itzjxnnifxr) November 14, 2016
Finally my name is misspelled at a @starbucks. I've waited so long :) #achievementunlocked pic.twitter.com/ihCnPcxt7c

— Stephanie Lenz (@Edenza) November 5, 2016
@karisaucedo someone said I looked cute today, and someone at Starbucks misspelled my name. It's lit. pic.twitter.com/XLOtkGdcEd

— Karina (@karisaucedo) October 24, 2016
There's a first time for everything, including having your four-letter name misspelled @ Starbucks pic.twitter.com/7778YdtPeU

— mary christmas (@marystjohn25) September 3, 2016
Daaammn @Starbucks back at it again with the misspelled names...

Worst part is that I spelled it for her 3 times. pic.twitter.com/E9PdsWM9Sm

— Syd (@Sydney_Brown96) May 3, 2016
Could this really be the greatest subliminal marketing campaign of all time, or are there just a lot of Starbucks employees who really can't spell?
You decide.
You may also like...